M&A News: Unilever, Berkshire Hathaway, Marine Harvest, Cermaq, Bayer, Conceptus
Noteworthy expenditures of the week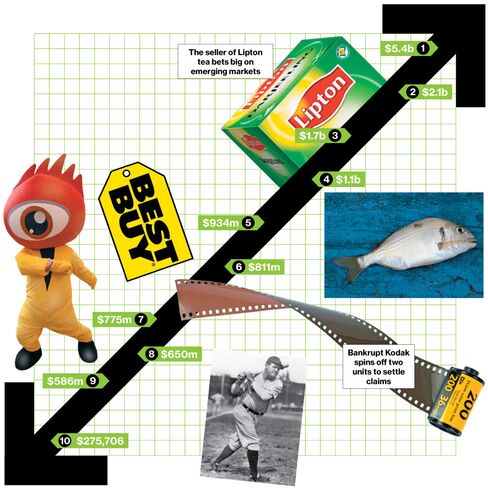 1. Unilever, which makes Lipton tea and Dove soap, will pay as much as $5.4 billion to raise its stake in Hindustan Unilever to 75 percent.
2. Warren Buffett's Berkshire Hathaway will pay $2.1 billion for the 20 percent it doesn't own of IMC International Metalworking, an Israeli maker of aerospace and auto manufacturing gear.
3. Oslo-based Marine Harvest, the fish-farming company controlled by billionaire John Fredriksen, offered $1.7 billion to acquire competitor Cermaq.
4. German chemical and pharmaceutical giant Bayer will pay about $1.1 billion for California-based Conceptus, maker of Essure, a nonsurgical contraception device.
5. Telenor Group, the Nordic region's largest telecommunications operator, will purchase Hellenic Telecommunications Organization's Bulgarian mobile unit, Globul, for $934 million.
6. Japan's No. 1 trader of grains and food products, Marubeni, offered to buymobile-phone retailer NEC Mobiling for $811 million.
7. Best Buy will leave Europe by selling its 50 percent stake in a mobile-phone venture to partner Carphone Warehouse Group for $775 million.
8. Eastman Kodak will spin off its personalized imaging and document imaging businesses for $650 million as part of a plan to settle $2.8 billion of claims and exit bankruptcy.
9. Alibaba Group, owner of China's leading e-commerce site, will pay $586 million for a stake of about 18 percent in the Twitter-like service Weibo.
10. An autographed photo of the 1927 World Series champion New York Yankees fetched $275,706 at auction. The lineup that year, nicknamed Murderers' Row, included Babe Ruth, Lou Gehrig, Tony Lazzeri, and Earle Combs.
Before it's here, it's on the Bloomberg Terminal.
LEARN MORE