Canada Said to Name Central Bank Replacement Today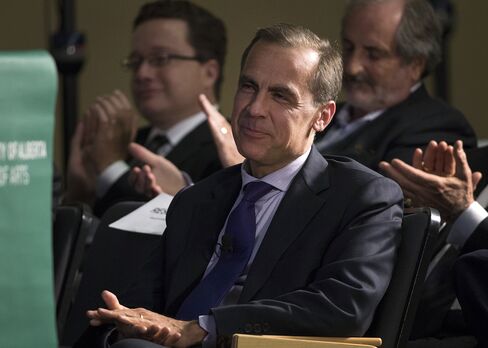 May 2 (Bloomberg) -- Finance Minister Jim Flaherty may name a replacement for Bank of Canada Governor Mark Carney as early as today, according to a person familiar with the plans.
The announcement would be made at about 4 p.m. in Ottawa, said the person who asked not to be identified because the plans aren't public.
Prime Minister Stephen Harper's cabinet must approve the choice of governor, which is chosen from a list provided by the central bank's board of outside directors. Flaherty has said he wanted to name a replacement in April and told reporters earlier this week that the process is drawing to a close.
Dan Miles, a spokesman for Flaherty, said today he had nothing new to report on the process. Bank of Canada spokesman Jeremy Harrison said he had no comment on the matter. Asked outside parliament if an announcement would be made today, Flaherty told Bloomberg News, "soon."
Carney gave a lecture in Edmonton, Alberta late yesterday and then boarded an overnight flight to Toronto before taking a connecting flight to Ottawa at about 7 a.m., instead of staying in Toronto where he is scheduled to participate in a panel discussion tomorrow.
Economists in a Bloomberg survey after Carney announced his departure named Senior Deputy Governor Tiff Macklem as the most likely replacement. The second-most likely candidate is Export Development Canada Chief Executive Officer Stephen Poloz, JPMorgan Chase & Co. said in a March 19 report. The Globe and Mail newspaper said Stanford University finance professor Darrell Duffie is also a candidate.
Policy Rate
The new governor will inherit a policy rate that has been 1 percent since September 2010, the longest pause since the 1950s. Current policy makers have said for a year that their bias is to increase borrowing costs while peers such as the U.S. Federal Reserve have bought assets to boost growth.
Carney made the surprise announcement Nov. 26 that he would leave on June 1 to take over the Bank of England a month later. He told reporters in Edmonton last night that the short lead-in timeframe for his replacement is a "non issue" and the next governor "will be ready."
Macklem, 51, started at the central bank in 1984 and joined its rate-setting panel in 2004 before being promoted to senior deputy in July 2010. At a January lecture, Macklem said the bank's monetary policy has been "effective" and keeping it unchanged has been "the right thing to do."
Poloz, 57, joined EDC, a government trade financing agency, in 1999 as chief economist after three years with Bank Credit Analyst Research in Montreal and 14 years at the central bank in roles that included head of the research department.
Duffie, 58, is a finance professor at California's Stanford University, and most of his research is related to credit risk and the prices of assets such as derivatives. Duffie earned a doctorate in engineering economic systems from Stanford in 1984, a master's degree in economic statistics from Australia's University of New England and a bachelor degree in civil engineering from the University of New Brunswick in 1975.
To contact the reporters on this story: Andrew Mayeda in Ottawa at amayeda@bloomberg.net; Greg Quinn in Ottawa at gquinn1@bloomberg.net
To contact the editor responsible for this story: Chris Wellisz at cwellisz@bloomberg.net