Yahoo's Leave Policy Outshines Most of U.S. If Not Google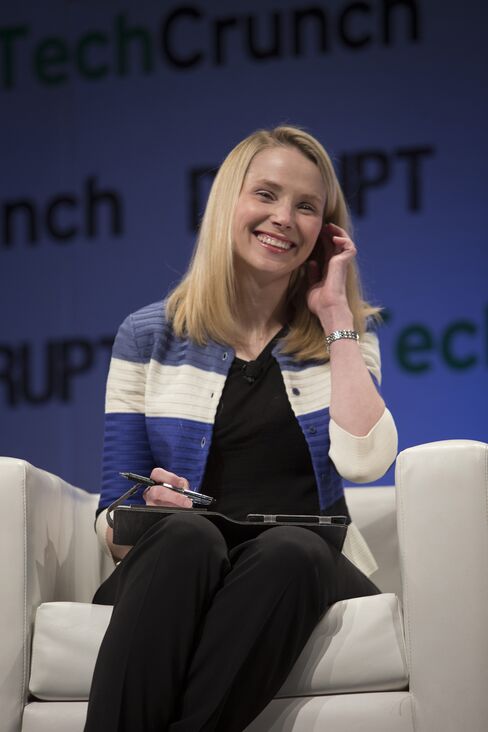 May 1 (Bloomberg) -- Yahoo! Inc.'s move to expand paid leave for new parents vaults the company ahead of most U.S. businesses, even if the benefits aren't as generous as those offered by Silicon Valley peers Google Inc. and Facebook Inc.
Moms can take as many as 16 weeks paid leave under the new Yahoo policy, the Sunnyvale, California-based company said yesterday. The leave is as long as eight weeks for dads, as well as moms who welcome a new child through adoption, surrogacy or foster-child placement. Previously, the benefit applied only to women and lasted six to eight weeks, Yahoo said.
The benefits still fall short of those available at Yahoo competitors such as Google, which gives 18 to 22 weeks to birth mothers. By broader U.S. standards, though, Yahoo is in an elite group, said Vicki Shabo, director of work and family programs at the National Partnership for Women & Families in Washington. Only 11 percent of private-sector workers have access to paid family leave, she said.
"The U.S. is woefully behind the rest of the world in the kind of leave it offers, or the kind that new parents have access to," Shabo said in an interview.
For Yahoo Chief Executive Officer Marissa Mayer, a recent mother herself, the motivation is making her company a more alluring place to work. After years of sluggish growth and declining market share, Yahoo faces difficulty attracting workers away from other Silicon Valley employers.
'Damage Control'
Another challenge: The company imposed limits on work-from-home arrangements in February, giving the impression that Yahoo wasn't friendly to the idea of a life-work balance. The company argued that being side by side would foster employee collaboration and improve "speed and quality."
"It's damage control after taking a black eye in the work-from-home stumble," said Erik Gordon, a professor at the Ross School of Business at the University of Michigan in Ann Arbor. "Yahoo has to be the only public company in the world where the CEO spends his or her time toiling over work-from-home and paternity policies."
Yahoo's other new or improved benefits include reimbursement for expenses related to the care of a new child. The company, the biggest U.S. Web portal, also offers Yahoo-branded baby gifts, eight weeks of unpaid leave for employees who pass five-year milestones, and even items for cats and dogs.
Free Food
"Over the last several months, we've introduced new benefits like free food to make Yahoos' days easier, new smartphones to encourage innovation, and updated computers to speed productivity," Yahoo said in a statement yesterday. "Recently, we rolled out some new and improved benefits to support the happiness and well-being of Yahoos and their families."
Companies offering generous parental-leave benefits typically find that it pays off in the long run, Shabo said.
"All of the research shows that offering paid leave to care for new children is helpful both for the worker and their employer," she said. "Companies offering great benefits is a real bright spot, and helps save costs for the companies down the line in terms of lower turnover and increased loyalty and productivity. New moms are more likely to stay in the workforce and have higher earnings after the birth of their child."
To contact the reporter on this story: Sarah Frier in New York at sfrier1@bloomberg.net
To contact the editor responsible for this story: Nick Turner at nturner7@bloomberg.net Tom Giles at tgiles5@bloomberg.net