Why Upper Arm-Lift Plastic Surgeries Are Soaring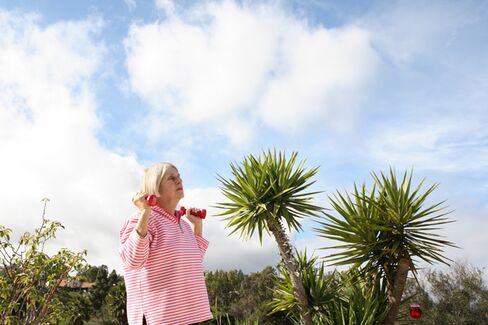 There comes a time when a tired, desperate gym goer just wishes her trainer were a magician. The next best thing, of course, is a plastic surgeon. And seeking a fix for jiggly "batwings," more women are asking their nip-and-tuck specialists for upper arm lifts, according to a report by the American Society of Plastic Surgeons.
The society estimated 15,457 upper arm lifts were performed in 2012, up 4,473 percent from 2000 and 3 percent from 2011. Why the increased focus on arms? For one, people who lose a lot of weight, including the growing number who underwent bariatric surgery in the last decade, often find they have extra skin. About 42 percent of upper arm lifts in 2012 were done following massive weight loss.
The other factor: "No doubt that celebrity hard bodies and fitness gurus inspire us all to be the best that we can be," goes an explanation on plasticsurgery.org. In a survey of 1,219 women, nearly one-third said they'd most like to have Michelle Obama's arms, followed by Jennifer Aniston (29 percent), Jessica Biel (16 percent), Kelly Ripa (13 percent), and Demi Moore (11 percent).
Every now and then, a celeb with certain enviable assets will inadvertently set off a trend in the plastic surgery business—take Kate Middleton's nose, the most desired nose in plastic surgery offices in New York, or J.Lo's butt, which has inspired copycats around the world.
David Reath, a plastic surgeon and chairman of the ASPS public education committee, says these celebrities motivate patients to look better. If they want to adopt a particular trait, such as a nose, his job is to advise them on whether their vision is realistic or even possible.
In the end, great arms require three things: good muscle mass, little fat, and no loose skin. A plastic surgeon can help with only the last two things. The rest is up to you and those dumbbells.
Before it's here, it's on the Bloomberg Terminal.
LEARN MORE