Pope Calls for More 'Social Justice' as Workers Take to Streets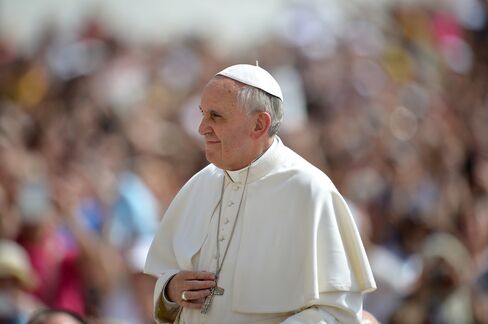 May 1 (Bloomberg) -- Pope Francis urged the unemployed "not to lose hope" amid record joblessness in the euro area as hundreds of thousands of people demonstrated across Europe against austerity and for workers' rights.
"I think about those who are unemployed often because of an economic conception of society that seeks egoistic profit regardless of social justice," the pope told a crowd in St. Peter's Square for a May Day audience.
In Athens more than 10,000 people demonstrated without incident, in a country that has suffered violent protests over the austerity demanded to secure European Union bailouts. May Day rallies are being held across France and 90,000 marched through the center of Moscow. Demonstrations in Italy will be capped by an annual outdoor concert in Rome that generally draws hundreds of thousands.
The demonstrations come one day after the European statistics office reported that the euro-region unemployment rate reached a record 12.1 percent after austerity measures aimed at taming debt levels deepened recessions across the continent. The rising joblessness has contributed to social unrest and violence, particularly in southern Europe, and a voter backlash against austerity-first governments.
Rome Shooting
In Italy, tensions remain high after an unemployed man shot two police officers outside the prime minister's office on April 29 while the new premier, Enrico Letta, was being sworn in nearby. The man told investigators that he felt desperate because he couldn't support his child after losing his job during the country's two-year recession.
Union leaders today led a demonstration in the Italian city of Perugia to mark another shooting of two local-government workers by a man in dire economic straits and economically motivated suicides are on the rise. In Turin, demonstrators held signs reading "the crisis kills" with photos of the Rome gunmen and his victims.
More than 80 countries mark the May Day holiday, which has its origins in the efforts of American unions to secure an eight-hour work day at the end of the 19th century. In Hong Kong demonstrators rallied in favor of 450 dock workers, crane operators and stevedores who have been on strike since March 28 demanding higher wages and better working conditions at the world's third-busiest container port.
Police, using water cannons and pepper spray, clashed with protesters marching to Istanbul's Taksim square in defiance of a ban on May Day rallies in the central plaza, state-run Anatolia news agency reported, without citing anyone.
To contact the reporter on this story: Alessandra Migliaccio in Rome at amigliaccio@bloomberg.net
To contact the editor responsible for this story: Tim Quinson at tquinson@bloomberg.net