Facebook Seen Reporting Sales Jump as Mobile-Ad Options Expand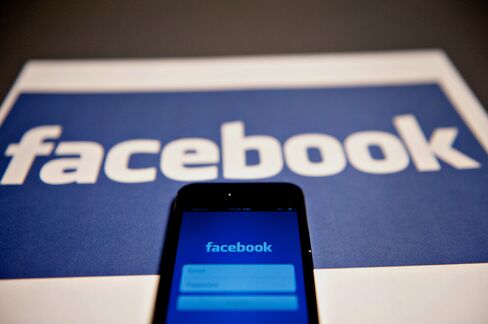 Facebook Inc., the largest social-networking service, is making headway in its push to boost sales by giving advertisers more ways to reach people who share photos and status updates over wireless devices.
The company, which will report results today after U.S. markets close, is projected to say first-quarter revenue jumped 36 percent to $1.44 billion, the average of analysts' estimates compiled by Bloomberg. Profit before certain costs is predicted to be 13 cents a share. A year earlier, the company had earnings of $205 million, or 9 cents, on sales of $1.06 billion.
Facebook's shares have risen for eight straight trading days as investors grow more optimistic about demand for its advertising tools, including services for reaching members on handsets and tablets. The Menlo Park, California-based company is giving marketers more options to court the growing number of users who socialize on mobile devices and the Instagram photo application, shifting away from Facebook on desktop computers.
"It's becoming much more of a professional media platform," said Martin Pyykkonen, an analyst at Wedge Partners Corp. in Greenwood Village, Colorado. "There's more depth and breadth to what they're offering. It's not perfect. It's not like they've figured everything out."
Shares of Facebook rose 2.9 percent to $27.77 at yesterday's close in New York. The stock has gained 8.1 percent in the past eight days, its longest winning streak since a May initial public offering, though it's still down 27 percent from the IPO price of $38 a share.
Mobile's Contribution
Of its 1.1 billion users, about 680 million access the service monthly with smartphones and tablets, meaning results from mobile platforms will be closely watched. Mobile contributed 23 percent of total ad revenue in the fourth quarter, up from 14 percent in the third quarter.
Concerns about Facebook's ability to make money from mobile users helped push the stock down in the months after the share sale to a low of $17.73 in September. Now, the company is benefiting from mobile-ad products it rolled out last year, including ways for companies to highlight their promotions as users scroll through the News Feed. During the first quarter, the company expanded the frequency of ads members saw on smartphones and tablets, according to Spruce Media.
That could get a further boost when the company introduces ads on Instagram, the photo-sharing app it acquired for about $740 million last year.
Untapped Opportunity
Based on the application's rapid growth to 100 million users, Instagram may now be worth about $2 billion, according to Michael Pachter, an analyst at Wedbush Securities Inc. in Los Angeles. The service, which appeals especially to adolescents who are too young to have a Facebook account, had less than 10 million users a year ago. That puts it ahead of other popular social Web services such as review site Yelp Inc. and virtual pinboard Pinterest Inc., according to ComScore Inc.
That growth makes Instagram the platform that offers Facebook the biggest untapped opportunity for mobile-advertising revenue. Still, part of the attraction of Instagram, which lets users crop, filter and post photos to friends and followers from a smartphone, is its lack of marketing messages -- meaning that adding promotions poses the risk of a user backlash. Though Facebook hasn't given a time frame for when it will offer advertising on Instagram, analysts say it's a matter of when, not if.
"I actually don't know why they have waited so long to start offering advertising," said Debra Aho Williamson, an analyst at New York-based EMarketer Inc.
User Resistance
The company has already met with user resistance. Late last year, the photo service was criticized for incorporating new language into its terms of service that said Instagram might give third-party companies more flexibility in using photos, user names and likenesses in ads. After members complained, the service scrapped the proposed language within days and reverted to the terms from 2010.
"Rather than obtain permission from you to introduce possible advertising products we have not yet developed, we are going to take the time to complete our plans, and then come back to our users and explain how we would like for our advertising business to work," Instagram co-founder Kevin Systrom wrote in a blog post.
When it does arrive, advertising on Instagram is likely to borrow from Facebook's flagship site and mobile service. For more than a year, the company has been selling space in Facebook users' News Feeds -- the content hub of the site -- and letting marketers post photos or text to show off new products or promote their brands.
Engaging Ads
Likewise, Instagram ads will have to engage users with pictures that resemble friends' updates, said Rob Jewell, founder and chief executive officer of Spruce Media, which helps companies market themselves on Facebook.
"I would expect to not see those ugly two-text-line ads," Jewell said. "It's going to be a very similar format to what a current Instagram post looks like."
Ad pricing should be on par with or higher than the most expensive ads on Facebook, he said. That means Instagram could bring in $5 to $7 per 1,000 impressions, outpacing promotions run on some mobile-ad platforms, such as some run with Google Inc.'s service, that bring in about 50 cents.
To avoid another user revolt, Instagram will need to be careful not to overwhelm the service with ads, disturbing a community of users that are passionate about photos, said Mladen Raickovic, general manager for social business at Adknowledge, which helps companies manage digital marketing. At the same time, the ads have to be effective enough to satisfy marketers, a process Facebook has been working through on its namesake website and mobile app.
Balancing Needs
"Once Instagram has an advertising platform, it's going to be an iterative process, where they test and try different units," Raickovic said. "They just need to balance those needs."
Companies aren't waiting for Facebook to begin selling advertising to establish a presence on Instagram. The photo service has become a popular place for businesses to market themselves without buying ads, using official accounts, hashtags and promotions. At Spruce Media, 26 percent of clients have set up Instagram accounts, according to survey of more than 100 customers.
Audi AG has emerged as one of the most popular brands on the service, with about 400,000 followers. The German automaker has seen growth of about 50 percent quarter-over-quarter in its follower count, according to Drew Elliott, an Audi specialist for social media.
#Audi Tags
"Instagram is great platform for Audi because it allows us to connect with fans in a way that leverages already existent fan behavior," Elliott said in an e-mailed statement. "Instagram users were tagging photos with #audi well before we had a presence on the platform."
Though it's still working to find the best approach to advertising, Instagram may prove to be similar to Google's 2006 acquisition of YouTube, said Mark Mahaney, an analyst at RBC Capital Markets in San Francisco. YouTube, the No. 1 online video-sharing service, has emerged as an important source of display advertising for Google, after being a financial burden in the early days after the purchase.
After demonstrating growth in mobile ads in its core business, Facebook has a good chance of delivering the same success with Instagram, Mahaney said.
"To date, it's proven to be a good bet, and bet is the right word -- that bet could still turn sour," he said. "What they've shown is they can introduce new monetization formats, and that's a significant positive."