Letta Plans to Respect EU Budget Rules as Tax Cuts Prepared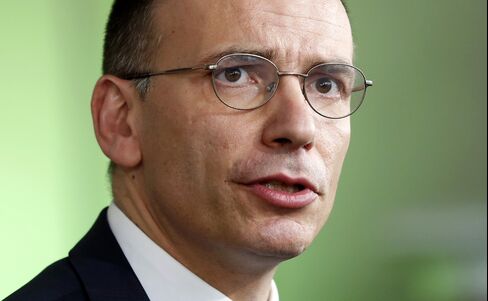 Italian Prime Minister Enrico Letta said his plans to cut taxes for homeowners, consumers and companies will keep the budget deficit within European rules.
Letta, 46, outlined his priorities in a speech today in the lower house of Parliament in Rome, one day after being sworn in to replace Mario Monti. He then won a confidence vote in the Chamber of Deputies, and his government will be officially installed after another vote tomorrow in the Senate.
While Letta didn't give full details about financing the stimulus, he said Italy will have options once the European Union ends its budget review, known as the excessive-deficit procedure.
"We must exit from the excessive-deficit procedure to recover margins to maneuver within the European rules that we want to respect," Letta said. "Without growth and without cohesion, Italy is lost."
As Italy struggles with a second year of recession and the second-largest debt load in the euro area, after Greece, Letta is promising tax cuts to please voters and his parliamentary supporters. He's also reaching out to European allies, like German Chancellor Angela Merkel, with reassurances on budget rigor. The Italian premier travels to Berlin to meet with Merkel tomorrow and said he plans to visit Brussels and Paris.
The end of two months of political gridlock boosted bonds, with the yield on Italian 10-year debt closing at a 2 1/2-year low, falling 15 basis points to 3.91 percent. The benchmark FTSEMIB stock index surged 2.2 percent, the biggest gain among major stock markets in Europe.
Austerity Campaign
In his 17 months in office, Monti bolstered Merkel's campaign for austerity by imposing tax increases and making deficit reduction the focus of his policies. While Letta serves at the head of the same parliamentary coalition that supported Monti, the new premier has faced more pressure to challenge EU rules and repeal austerity as Italy's recession deepens.
"In Europe and internationally, Italy will find strategies to boost growth without compromising the necessary process of restructuring of public finances," Letta said.
Letta inherits an economy that's probably in its eighth quarter of contraction and must win the trust of Italian voters who repudiated Monti's austerity in inconclusive elections Feb. 24-25. Italians gave a quarter of their votes to the upstart Five Star Movement, which calls into question euro membership and pushes the government to demand more leeway from the EU.
Tax Cuts
The new administration will seek to avoid a scheduled increase in the value-added tax and suspend collection of a controversial property levy known as IMU, Letta said. He proposed reducing payroll levies and said tax breaks to favor the hiring of young people will also be considered.
The move to lower or remove IMU reflects the influence of Letta's coalition partner, former Prime Minister Silvio Berlusconi, who placed the levy at the center of his anti-austerity election campaign. Letta will have to balance the demands for stimulus from Berlusconi, 76, and his own Democratic Party against the budget discipline required by the EU.
"The speech was music to our ears," said Angelino Alfano, the secretary general of Berlusconi's People of Liberty party, who joined Letta's government as deputy prime minister and interior minister.
Letta's Democratic Party and Berlusconi's party challenged Monti's budget rigor during the election campaign after the two groups voted for the measures in 2011 and 2012. Monti, whose Civic Choice party finished fourth in the vote, is part of Letta's coalition. The Democratic Party was first, while People of Liberty was second.
Debt Peaking
Monti's rigor helped Italy bring its budget deficit to the EU limit of 3 percent of gross domestic product last year. The country is also running a primary surplus, the budget shortfall excluding interest payments, of 2.5 percent, which will help bring down a debt set to peak at a record 130.4 percent of GDP this year.
Rome Shooting
Two police officers were shot outside of the prime minister's office in Rome while Letta and his Cabinet were being sworn in at the nearby presidential palace. The gunman wore a business suit and hit one policeman in the neck and the other in the leg, before being wrestled to the ground.
The 49-year-old assailant told investigators he wanted to shoot politicians after losing his job during the economic slump.
Letta set out a plan to reduce the cost of government that included the abolition of provinces and the elimination of double salaries for lawmakers who serve as Cabinet ministers.
Before it's here, it's on the Bloomberg Terminal.
LEARN MORE