York University Digs Into an MBA in Mining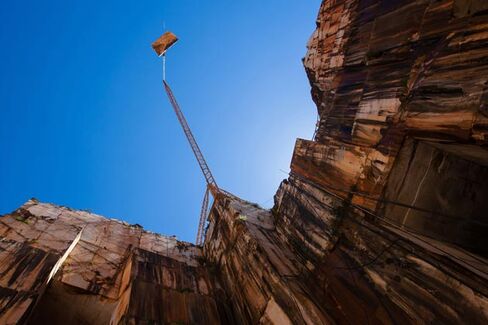 Business schools are creating specialized degrees at a rapid rate, but a new program in Toronto is likely the first to marry finance and mining.
York University's Schulich School of Business, which offers MBA concentrations ranging from health management to real estate and infrastructure, graduates its first MBA class in global mining management this spring. The school tapped former Inmet Mining Chief Executive Officer Richard Ross to conceive and direct the program in 2011 after the Canadian Institute of Mining (CIM), a trade group representing companies such as Kinross Gold and BHP Billiton, approached the school about tailoring business courses for the sector. CIM, Ross says, "is very concerned about its manpower outlook. They see a shortage of skilled workers at all levels, from miners to the executive ranks."
Ross calls Toronto the "mining finance capital of the world" and estimates that 70 percent to 80 percent of equity offerings on the Toronto Stock Exchange and TSX Venture Exchange are on behalf of the sector. "With that comes a strong investment banking community, mining analysis, and all the peripheral industries like equipment manufacturing and consulting," he says.
The program enrolled 30 students this school year, and so far 36 have signed up for the next. Employers in nearly all of those offshoots have shown interest in the program's first round of graduates. An informal recruiting event brought out 31 industry representatives from employers such as Barrick Gold, Canaccord Genuity, Hatch Consulting, Atlas Copco, Inmet, and the Toronto Stock Exchange.
Minerals and mineral products accounted for about 16 percent of Canadian exports in February, and stocks of Canadian mining companies with a market capitalization of C$50 million ($49 million) or more have returned an average of 5.3 percent over the past three years, according to data compiled by Bloomberg. Jobs in the industry are up about 8 percent since March 2011. "The sector is obviously important to the Canadian economy, and in that sense it sparked my interest," says Kyle Franklin, a second-year student in the program who graduates this spring.
Franklin managed a pension plan at State Street prior to school and expects to do equity research on the sector for Canaccord Genuity after graduation. He entered school with no knowledge of the mining industry, but that changed quickly, as the curriculum is heavily loaded with speakers including bankers, consultants, auditors, and accountants who are all focused on the sector. Students are tasked with exercises such as predicting the life of a mine, and most do a team consulting project for a company in the mining industry before graduating.
One of Franklin's most valuable and memorable experiences came in February, he says, when he and eight other students visited a Vale-owned nickel mine in the Northern Ontario city of Sudbury. The trip was arranged through the school. "We went underground for about three hours and got to see essentially everything they do down there—blasting, hauling, crushing. On the surface, we toured their facilities and saw how the mill works and what happens to the waste," he says. "All of those things we got to experience first hand."
Join the discussion on the Bloomberg Businessweek Business School Forum, visit us on Facebook, and follow @BWbschools on Twitter.
Before it's here, it's on the Bloomberg Terminal.
LEARN MORE