Female MBAs From Elite Schools Are More Likely to Opt Out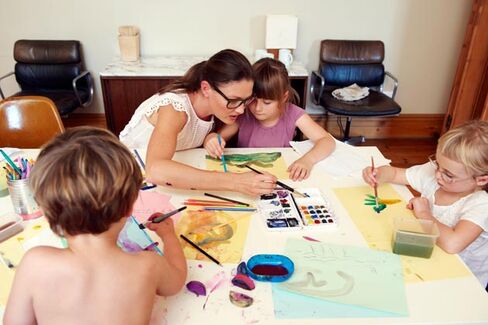 Joni Hersch has a message for companies hiring women, especially MBAs: "If you want to hire a woman who will stay, don't hire a Harvard MBA," the Vanderbilt University law and economics professor says.
In her article "Opting Out Among Women with Elite Education," which was recently accepted for publication in a future issue of the Review of Economics of the Household, Hersch explains that female MBAs from top business schools don't necessarily want to "have it all." In fact, she found that the largest gap in labor market activity between graduates of elite schools—think Harvard and its peers—and less selective institutions is among MBAs.
Married mothers who hold an MBA from a top business school are 30 percent less likely to be employed full-time than graduates of less selective programs, according to the research. Also, only 35 percent of females with children who also hold an MBA from the most selective schools were employed full-time, compared with 85 percent of those without children from the same group of institutions.
To reach these conclusions, Hersch gathered data from the 2003 National Survey of College Graduates, which provided information on 100,000 grads from the full spectrum of four-year colleges and universities. She says she chose to use the 2003 report because it was the most comprehensive. Since the 2010 report was just recently made available to the public, Hersch plans to incorporate the latest data in the near future.
After collecting the grad data, Hersch then classified the schools into four tiers of institutions, with tier one being the most selective, "elite" institutions, and tier four being the least selective.
The pay differences alone make Hersch's findings surprising. "For those working full-time, the average salaries [of grads from elite MBA programs] are nearly double that of the other groups," she says. "In 2003 dollars it's around $137,000, vs. around $74,000 for the other tiers."
Considering that women from elite schools are the ones who are most likely to land senior management roles, this could begin to explain why fewer women are gaining access to the C-suite, Hersch says. If they stop working, they can never reach those positions, and the women from lesser-recognized schools rarely get the same opportunities for advancement.
A flexible work schedule is often mentioned as the answer to getting moms to stay in the workforce, Hersch says, but that isn't the solution to getting more women into senior management roles. "Flexibility alone isn't going to bring more women into higher levels of management," she says, "especially if companies are going to preferentially hire graduates of elite institutions."
Hersch plans to dig deeper into the issue in the hopes of discovering why, exactly, so many women with elite MBA degrees are choosing to opt out of the workforce, but for now, all she can do is speculate. Others have suggested that perhaps elite MBA grads are so driven that when they can't find work/family balance, they can't stand to have an ordinary job. But Hersch doesn't buy it. "Research shows that even short interruptions to a career have an enormous negative impact on MBA lifetime earnings," she says. "I don't see how it makes sense to leave the labor market entirely."
Join the discussion on the Bloomberg Businessweek Business School Forum, visit us on Facebook, and follow @BWbschools on Twitter.
Before it's here, it's on the Bloomberg Terminal.
LEARN MORE