"We Buy Gold." How Shops Are Faring, Post-Gold Crash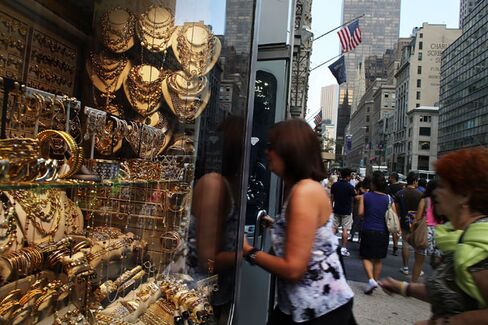 During the recent gold rush, when prices surged from $900 to $1,800 an ounce over the course of three years, gold-buying businesses seemed to crop up everywhere. It wasn't just jewelry stores and pawnbrokers that advertised their willingness to buy. "Cash for Gold" signs in barbershops, dry cleaners, and gas stations were common.
How have small businesses dealing in gold fared during the recent plunge in gold, as prices dipped below $1,400 an ounce? Public-facing buyers large and small are generally regulated at the state level, by consumer affairs law, and nationally, by anti-money laundering provisions in the Patriot Act. But there's no single database of gold-buying businesses and no simple way of gauging how they've responded to falling gold prices.
William Nefsky, a precious metals consultant in Atlanta, says the plunge in gold prices shouldn't squeeze out gold-buying storefronts because they pay sellers one-fourth to one-half the prices they charge buyers. And while some states require second-hand businesses such as gold-liquidators to hold goods for a set period of time before reselling, Nefsky says their wide margins should cushion them.
Others, such as former Congressman Ron Paul and Anthem Blanchard, chief executive officer of gold bullion dealer Anthem Vault in Las Vegas, say recent declines have been driven by futures markets while demand for the physical product remains strong. "The cash-for-gold businesses should increase their margins," says Blanchard. "They should be able to get a better premium for their scraps."
The other predominant school of thought offers a gloomier take. Jordan Tabach-Bank, a third-generation pawnbroker in Beverly Hills, Calif., says that the cash-for-gold business was slowing down, even before prices fell off the table. "A lot of those businesses have closed down because people have already sold what they want to sell," he says. Todd Hills, CEO of online pawnbroker Pawngo says his industry is also grappling with the aftermath of the recent hot market. "The problem with gold getting so high was that everyone wanted to liquidate," he says. "If they liquidated their gold, they don't have anything to borrow against."
This week, British pawnbroker Albemarle & Bond's stock fell the most since 1995, according to Bloomberg News, after the company warned that its gold-buying unit may experience lower profit in the face of weaker gold prices and fewer clients with jewelry to sell.
Cash-for-gold shops aren't going to vanish entirely, says Cecilia Gardner, CEO of the Jewelers Vigilance Committee, a self-regulatory organization for the jewelry industry."There have been gold-buying business from time immemorial," she says. "They're not going to disappear."
Before it's here, it's on the Bloomberg Terminal.
LEARN MORE