ISDAfix Probe Expands as FCA Said to Join CFTC: Credit Markets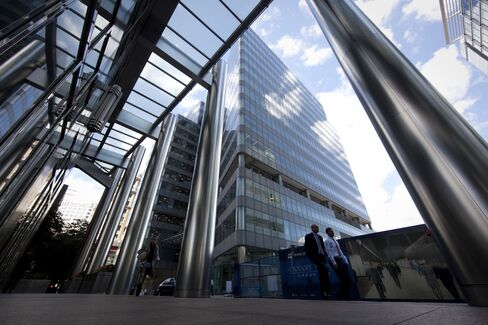 The U.K. Financial Conduct Authority has started an inquiry into how ISDAfix swaps prices are set in British pounds, widening a price-manipulation probe of a benchmark that helps determine interest rates on everything from annuities to bonds linked to skyscrapers.
The FCA is working with the U.S. Commodity Futures Trading Commission and is in the early stages of its review, according to two people familiar with the matter, who asked not to be named because the inquiry is ongoing. The London-based regulator hasn't opened a formal investigation, one of the people said.
The British regulator's review comes after the CFTC issued subpoenas to ICAP Plc brokers and as many as 15 Wall Street banks to determine if the brokers colluded with dealers who stand to profit from inaccurate quotes for the dollar-denominated rate, Bloomberg News first reported April 8. Companies use ISDAfix to value swaps that protect against soaring interest rates, while fluctuations set the amount some states pay on pension annuities.
"It's a global market and you see it in the U.S. and you're going to see it elsewhere," said Allan Zavarro, the former global head of futures trading for ABN Amro Bank NV.
Libor Probe
The FCA, previously known as the Financial Services Authority, began looking into manipulation of the London interbank offered rate in 2009 after the CFTC requested its assistance the prior year. The British agency opened a formal investigation of that rate in early 2010, leading to Barclays Plc, UBS AG and Royal Bank of Scotland Group Plc being fined more than more than $2.5 billion over the past 12 months for rigging Libor, a global benchmark for $300 trillion of securities.
Like Libor, ISDAfix is created by averaging submissions from banks rather than actual trade data.
Chris Hamilton, a spokesman for the FCA, declined to comment as did Steve Adamske, a CFTC spokesman.
ISDAfix rates were created in 1998 by the International Swaps & Derivatives Association along with the predecessors of Thomson Reuters Corp. and London-based ICAP, the biggest arranger of rate-swaps trades between banks. New York-based ISDA, which is holding its annual meeting in Singapore this week, also has received a subpoena from the CFTC.
The rates are distributed by Thomson Reuters, Telekurs and Bloomberg LP, the parent company of Bloomberg News, according to ISDA's website.
Averaging Submissions
Companies and money managers in the $379 trillion swaps market rely on the ISDAfix benchmarks to value their trades. Banks use the rates in setting coupons paid on $550 billion of bonds tied to commercial real estate. ISDAfix fluctuations also help determine the performance of structured notes bought by wealthy individuals.
In an April 9 statement, ICAP said it had no knowledge of allegations of price manipulation by its brokers and is investigating them. "Until those investigations are complete, we will not make any further comment," the company said.
FCA Chief Executive Officer Martin Wheatley and CFTC Chairman Gary Gensler are leading a panel on behalf of the International Organization of Securities Commissions to review the setting of global benchmarks and create a code of conduct. The group said last week that the rates should be based on data from actual trades and that conflicts of interest should be eliminated.
'Abusive' Opportunities
Benchmark setting is a process with "opportunities for abusive conduct," through submission of "false and misleading data" or attempts to influence personnel charged with compiling data and publishing the rate, according to the Iosco report.
Iosco, which brings together markets regulators for more than 100 nations to coordinate their rule-making, will seek industry feedback on the proposals through May 16.
Elsewhere in credit markets, La Frontera Generation LLC, a unit of NextEra Energy Resources LLC, is said to be seeking a $1 billion term loan to support a dividend payout to NextEra and to fund reserve accounts for La Frontera. Diageo Plc, the world's biggest distiller, is planning a dollar-denominated, benchmark bond sale in its first offering in almost a year.
Credit Benchmarks
The U.S. two-year interest-rate swap spread, a measure of debt market stress, fell 0.56 basis point to 13 basis points as of 11:41 a.m. in New York, poised for the lowest closing level since Jan. 16. The gauge narrows when investors favor assets such as corporate bonds and widens when they seek the perceived safety of government securities.
The cost of protecting corporate debt from default in the U.S. held at the lowest since March 18. The Markit CDX North American Investment Grade Index, a credit-default swaps benchmark that investors use to hedge against losses or to speculate on creditworthiness, declined 0.1 basis point to a mid-price of 80.6 basis points, according to prices compiled by Bloomberg.
In London, the Markit iTraxx Europe Index, tied to 125 companies with investment-grade ratings, decreased 1.2 to 106.2.
The indexes typically fall as investor confidence improves and rise as it deteriorates. Credit swaps pay the buyer face value if a borrower fails to meet its obligations, less the value of the defaulted debt. A basis point equals $1,000 annually on a contract protecting $10 million of debt.
Morgan Stanley
Bonds of New York-based Morgan Stanley, which raised $3.65 billion in a four-part debt sale on April 22, are the most actively traded dollar-denominated corporate securities by dealers today, accounting for 3.9 percent of the volume of dealer trades of $1 million or more, according to Trace, the bond-price reporting system of the Financial Industry Regulatory Authority.
The bank's $2.5 billion of five-year, 2.125 percent notes climbed 0.25 cent from the issue price to 100.2 cents on the dollar for a yield of 2.1 percent at 10:19 a.m. in New York, Trace data show.
Diageo, the seller of Johnnie Walker Scotch and Crown Royal Canadian whisky may issue three-, five-, 10- and 30-year debt as soon as today, according to a person familiar with the transaction. Proceeds will be used to repay commercial paper and its 1.15 billion euros ($1.49 billion) of 5.5 percent bonds due July 2013, among other general corporate purposes, the London-based company said today in a filing.
Diageo last sold debt in May, raising $2.5 billion in a three-part offering, including $1 billion of 2.875 percent, 10-year debentures to yield 107 basis points more than similar-maturity Treasuries, according to data compiled by Bloomberg.
La Frontera's loan, which will come due in September 2020, is being arranged by Bank of America Corp., according to a person with knowledge of the transaction. A lender meeting will be held tomorrow at 1:30 p.m. in New York, said the person, who asked not to be identified because the details are private.
Before it's here, it's on the Bloomberg Terminal.
LEARN MORE