Lockheed Beats Earnings Estimates, Cautions on Forecast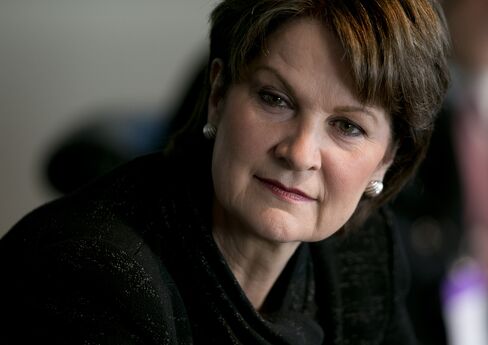 Lockheed Martin Corp. said first-quarter earnings beat analysts' estimates while cautioning that automatic U.S. budget cuts may push 2013 sales to the low end of its prior forecast.
Lockheed, the world's largest defense contractor, said net income from continuing operations increased 14 percent to $761 million, or $2.33 a share, from $668 million, or $2.03 a share, a year earlier. The average estimate of 20 analysts surveyed by Bloomberg was $2.04 a share.
The Bethesda, Maryland-based company said the reductions known as sequestration, which began March 1, may trim full-year sales by about $825 million, holding annual revenue to the low end of the range from $44.5 billion to $46 billion forecast in January. It maintained its forecast for a profit of $8.80 to $9.10 a share.
"While the impact of sequestration on our business has been limited to date, we continue to work closely with our customers to better understand the future impact sequestration may have on our programs," Marillyn Hewson, Lockheed's chief executive officer, said in the statement.
Lockheed rose 1.3 percent to close at $97.06 in New York.
'Bodes Well'
The company's decision to stick with its profit forecast may be a good sign for other top defense contractors, Brian Ruttenbur, an analyst with CRT Capital Group LLC in Stamford, Connecticut, said in a phone interview. Northrop Grumman Corp. and General Dynamics Corp. report earnings tomorrow, and Raytheon Co. announces results April 25.
"If Lockheed has this small an impact because of sequestration, that probably bodes well for the rest of the group," said Ruttenbur, who rates Lockheed as "fairly valued." "I don't think that everybody is going to fare as well as Lockheed, but it gives you an indication that things aren't that bad."
The across-the-board spending reductions were created by President Barack Obama and congressional Republicans as a penalty for failing to agree on a deficit-reduction strategy. They will strip $1.2 trillion from national security and domestic programs over nine years unless an alternative is enacted.
F-35 Fighter
The automatic cuts will hit two Lockheed divisions the hardest -- Information Systems & Global Solutions and Mission Systems and Training, Bruce Tanner, Lockheed's chief financial officer, said on a conference call with reporters.
The units will absorb about two-thirds of the $825 million reduction in sales that Lockheed anticipates this year from sequestration, Tanner said.
Lockheed's aeronautics unit, which includes the F-35 jet, will be less affected by the across-the-board reductions, he said.
Revenue from the F-35, the Pentagon's most expensive weapons system, was "up slightly" compared with the same quarter a year ago, according to Lockheed's statement. The fighter jet accounted for 14 percent of the company's sales last year, according to a federal regulatory filing.
International Buyers
"F-35 stability in the near term is going to help margins and help them retain sales," according to George Ferguson, an aerospace and defense analyst with Bloomberg Industries. "The Pentagon is going to have to protect the program to a certain degree because it's the only production stealth fighter and it's going to take on a multitude of roles."
While the odds of the F-35 being curtailed in the next several years are low, risks remain that the Defense Department and international customers will buy fewer aircraft due to the cost, Ferguson said. The estimated cost for a fleet of 2,443 F-35s has soared to $395.7 billion, up 70 percent from $233 billion in 2001 in current dollars, according to the Pentagon.
In the first quarter, Lockheed's lower sales stemmed mostly from fewer deliveries of F-16 jets and C-130 transport planes, according to the statement.
Even with the decline, sales of $11.1 billion beat the average analyst estimate of $10.3 billion by 7 percent. The higher-than-expected revenue stemmed partly from increased orders from the government before the automatic cuts began,
"We had some acceleration" prior to the reductions taking effect, Tanner said on the call with reporters. It's "a little hard to figure out if that's going to last throughout the year now or not."
Sequestration Pressure
While pressure from sequestration will mount in the second half of the year, there may be some relief in 2014 even if the cuts remain in effect, Tanner said on a conference call with analysts. The government may have more flexibility to spare its highest priority programs, he said.
Next year will show "whether or not your portfolio aligns to the government's strategic interests or not," he said. "We think ours does."
Defense spending proposals from Congress and Obama would benefit Lockheed, Hewson said on the analyst call.
The president's budget request released April 10 "shows strong alignment and budget support for a number of our key programs, such as the F-35 Joint Strike Fighter, Littoral Combat Ships, missile defense systems and higher quantities of C-130J aircraft," she said.