Rangel Sues Boehner to Reverse U.S. House Ethics Censure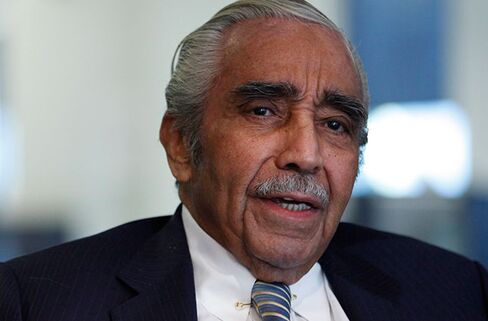 U.S. Representative Charles Rangel sued House Speaker John Boehner and six other lawmakers, saying evidence was withheld from a House probe that led to Rangel's censure for several ethics violations.
The House was "knowingly deceived" by members of the ethics committee, Rangel, a New York Democrat, claims in a complaint filed today in federal court in Washington. The committee, which at the time was headed by Democrat Zoe Lofgren, withheld a warning by its chief counsel that the proceedings against him had been tainted by misconduct, Rangel alleged.
"The suppressed material would probably have led to a different outcome," Rangel's lawyer, Jay Goldberg, said in the complaint. Rangel alleges that "had he known the facts," he would have "made a motion to dismiss by reason of wrongdoing."
Rangel, a former Ways and Means Committee chairman, was censured by the House in December 2010 for violations including using a rent-controlled apartment as a campaign office, using congressional stationery and staff to seek donations for an academic center named for him at City College of New York, filing erroneous financial-disclosure statements and failing to pay taxes on rental income for 17 years.
Legal Limits
The Federal Election Commission last year fined Rangel $23,000 over the rent-controlled apartment. The FEC said the use of the apartment was a campaign contribution in excess of legal limits and should have been reported by Rangel's campaign committee and his leadership political action committee.
Duncan Neasham, a spokesman for Lofgren, of California, declined to comment on the lawsuit. Michael Steel, a spokesman for Boehner, didn't immediately return a call seeking comment.
Rangel, 82, the co-founder of the Congressional Black Caucus, won re-election for another two-year term in November. He has represented Harlem since 1970.
Rangel alleges that the committee violated his right to due process by withholding documents showing that the investigation of him was biased. The misconduct, he said, involves a memorandum by Blake Chisam, staff director and chief counsel of the ethics committee at the time of Rangel probe. Chisam, in a memo to Lofgren, accused two staff members of impermissible communications with Republican staff and committee members.
Undated Memo
The memo, which is undated, also suggests that the investigators made "inappropriate racial comments" about blacks. Rangel said he didn't know about the memo until July 2011.
Chisam, a lawyer at Fragomen, Del Rey, Bernsen and Loewy LLP in Washington and a defendant in the case, didn't immediately reply to a phone message seeking comment.
Rangel alleges Lofgren made misstatements to the House when prior to the vote she said the proceedings were conducted without bias.
Other House members named as defendants in the case include Republicans Josiah Bonner, Michael McCaul, K. Michael Conaway, Charles Dent and Gregg Harper.
Rebecca Neal, a spokeswoman for Conaway, and Mike Rosen, a spokesman for McCaul, referred requests for comment to the ethics committee. Dan Schwager, chief counsel of the ethics committee, currently headed by Conaway, declined to comment.
Shawn Millan, a spokesman for Dent, and Adam Buckalew, a spokesman for Harper, didn't immediately respond to e-mail and phone messages seeking comment on the case.
Michael Lewis, a spokesman for Bonner, declined to comment, saying "we don't make any comments on matters pertaining to ethics."
The case is Rangel v. Boehner, 13-cv-00540, U.S. District Court, District of Columbia (Washington).
Before it's here, it's on the Bloomberg Terminal.
LEARN MORE