Nigerian Battle With Boko Haram Militants Kills 185 People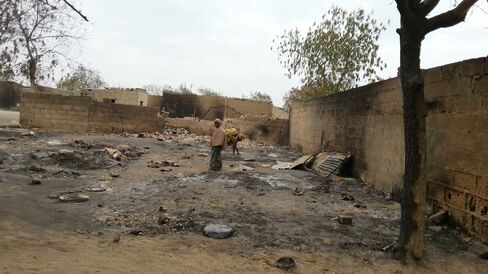 A battle between Nigerian soldiers and suspected Islamist militants that started on April 19 killed more than 185 people, mainly civilians, and left more than 2,000 houses burned in the northeastern town of Baga.
The fighting, which killed one officer, began after a patrol was attacked near a mosque where Boko Haram fighters have hidden weapons in the past, Brigadier General Austin Edokpaye said on a visit to the area yesterday. Militants "came out with heavy firepower" including rocket-propelled grenades, he told Borno state Governor Kashim Shettima.
"The soldiers were mindless that night," Baga resident Mallam Bana told Shettima during the visit. "They killed and burnt our houses, chased everyone into the bush including women and children."
The government of Africa's top oil producer since 2009 has battled Boko Haram, which has carried out gun and bomb attacks in the mainly Muslim north and the capital Abuja that have killed hundreds of people. The insurgency has been far from the southern oilfields where Exxon Mobil Corp., Royal Dutch Shell Plc, Chevron Corp., Total SA and Eni SpA run joint ventures with state-owned Nigerian National Petroleum Corp. that pump about 90 percent of the country's crude.
Burned, Buried
Baga residents buried at least 185 bodies while more people sustained injuries and were in the hospital, said Lawan Kole, a local government official in the Kukawa council area.
Edokpaye denied the government was to blame for the deaths, saying that Boko Haram members used civilians as human shields. He denied allegations by residents that the shootout was unprovoked.
"This incident is highly condemned," Senator Maina Ma'aji Lawan, who represents Borno North, said by phone today from Abuja. "I gathered from my constituents that 172 people who were mostly innocent civilians were killed."
Africa's most populous nation is almost evenly split between a north largely populated by Muslims and a predominantly Christian south.
President Goodluck Jonathan said April 17 he set up a committee that will draft a plan to grant amnesty to Boko Haram and disarm the group in a 60-day period. The announcement came less than a week after Boko Haram's leader, Abubakar Shekau, said the group won't accept a government amnesty.
Before it's here, it's on the Bloomberg Terminal.
LEARN MORE