Crowd's Video Evidence From Boston Bombing Deputizes Nation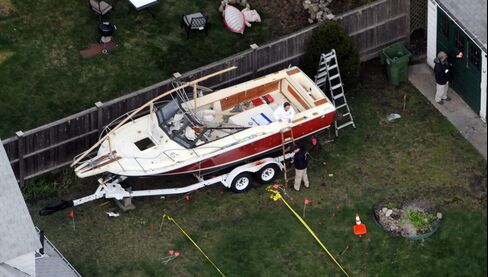 The crowd helped solve the crime.
From the day of the Boston Marathon bombings that killed three and wounded more than 170, the public marshaled mobile phones and the Internet to share videos and pictures with investigators.
Some indulged in freelance -- and erroneous -- sleuthing.
In the end, a suburbanite who noticed blood on his backyard boat called in the tip that ended the manhunt, allowing police to seize the surviving suspect in the April 15 blasts that paralyzed a major U.S. city in the worst act of terror since Sept. 11, 2001.
"The whole country now has been deputized -- they're essentially law enforcement without being sworn in," Eugene O'Donnell, a professor at John Jay College of Criminal Justice in New York and a former New York City police officer and prosecutor, said in an interview.
The readiness of authorities to mobilize the public's help in finding the culprits was "unprecedented and probably forms the model going forward for high-profile cases," O'Donnell said. "For like-minded people who might be planning violent activities, this is not good for them. There's nowhere to run, there's nowhere to hide."
Dzhokar Tsarnaev, 19, arrested April 19 after an exchange of gunfire in the Boston suburb of Watertown, lay wounded in a Boston hospital yesterday, according to several officials.
A day before Tsarnaev's arrest, the FBI released video of Dzhokar and his brother, Tamerlan Tsarnaev, 26, and asked for the public's help in identifying them.
Bombing Victim
A bombing victim helped authorities narrow down the sought-after images from hours of video: Jeff Bauman saw a man who dropped a bag that exploded minutes later, and his description delivered from a hospital bed helped investigators, according to his brother, Chris Bauman.
Paul Bresson, an FBI spokesman in Washington, declined to comment on specific tips.
The images appeared in newspapers, on broadcast networks, and on countless websites as well.
"What the Internet has done is take the idea of the wanted poster in the post office and elevated it exponentially," Robert Thompson, a professor of television and popular culture at Syracuse University in Syracuse, New York, said in an interview. "It's one thing to canvass a neighborhood. The Internet allows that canvassing to reach such a wider range."
Officer's Murder
Within hours of the video's release, a Massachusetts Institute of Technology campus police officer was shot to death, setting in train a violent night that included Tamerlan Tsarnaev's death in a shootout with police. Watertown and other Boston areas went on lockdown as authorities hunted for his brother. When officials lifted the lockdown, Dave Henneberry went outside his Watertown house, looked at his power boat and made the call that summoned authorities for their decisive gun battle with the surviving Tsarnaev.
Tamerlan and Dzhokar Tsarnaev faced "unbearable pressure" because information about them spread in real time to computers, televisions and smartphones nationwide, said O'Donnell, the former prosecutor.
Public involvement led to missteps along the way. For instance, a Brown University student was falsely rumored to be the bombing suspect with the white hat in photos that the FBI released, and the social media site Reddit, which played a role in spreading the report, apologized, according to the New York Times.
Linked Images
Websites including Twitter, where users linked images and shared insights about the bombings, offer new resources to law enforcement, said Bill Braniff, executive director of the National Consortium for the Study of Terrorism and Responses to Terrorism. The group is based in College Park, Maryland, at the University of Maryland.
"There's certainly a lot of promise in having a lot of images available," Braniff said in an interview. Further analysis will be needed to know whether the deluge of information helped.
Massachusetts Governor Deval Patrick on CBS's "Face the Nation" yesterday took a few moments to thank the public for its contributions in identifying and tracking down the suspects.
"They were a part of this investigation in many, many respects and their having responded to requests to submit photographs and videotapes and so on," Patrick said. "All of that helped in narrowing down who we were looking for and ultimately finding him."
As for Henneberry, the boat owner, social media is trying to help him get his bullet-pierced boat back in sailing condition. Henneberry didn't return phone calls seeking comment on the boat.
"Let's pool some money for repairs!" wrote Craig Dunlap, a user of the website Crowdtilt, an online platform for crowd-funding. "David's a modern American hero. The boat will be held up as evidence for some time, if we're able to get up to $50,000 then he'll be able to get a brand new boat!"
The website had raised about $3,000 through yesterday afternoon.
Before it's here, it's on the Bloomberg Terminal.
LEARN MORE