Paying for B-School With Help From Mom and Dad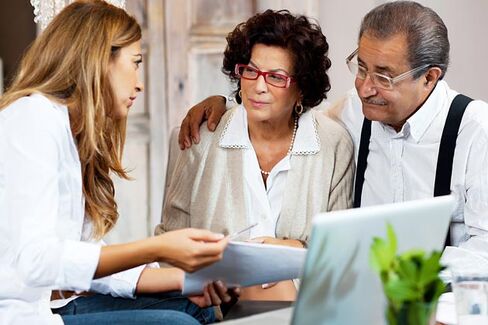 After their progeny have spent a few years in the workforce, parents might think their days of footing the bill for, well, everything are over. No such luck. New research suggests that parents of MBA students are being asked to pick up a larger portion of the B-school tab.
While fewer prospective MBA students are asking family for financial help, the withdrawals they're making from the Bank of Mom and Dad are bigger, especially among younger applicants. According to a survey of more than 15,000 prospective students by the Graduate Management Admission Council (GMAC), which administers the GMAT exam, those younger than 24 say their parents will, on average, pick up 52 percent of the cost of their MBA programs, up from 42 percent in 2009. For older applicants, the share of the B-school tab parents will be picking up is smaller, but still growing. Those 24 to 30 years old expect to get 36 percent of their financing from family, up from 32 percent, while those over 31 anticipate that their parents will pay 34 percent of the bill, up from 23 percent.
Blame it on skyrocketing B-school tuition, a recession that left many young people with little savings, and parents who see a child's business degree as an investment that will pay dividends in retirement—their own.
"The implication of the data suggests that schools will engage parents in the recruiting process," says Michelle Sparkman Renz, director of research communications for GMAC. "It's important for prospective students to know that they're not alone in asking for parents' help."
Ben Cober, who graduated from Indiana University's Kelley School of Business in 2012 at age 27, says his parents were always supportive of his education and career goals. Having grown up in Depression-era farm families, his parents wanted Cober to go for a graduate degree and did not want him to take on debt, he adds.
"In their minds, they're looking out for their future grandchildren, I think," says Cober.
Although Cober says he felt guilty and wanted to take out larger government loans, his parents convinced him that they would give him a better interest rate and ultimately paid about one-quarter of his tuition. He paid for the rest with an inheritance from his grandparents and loans.
Each month Cober writes a check to his parents just as he would for a traditional loan. He says he has paid back about one-sixth of what he owes them.
Renz says that parents are more involved in the child's decision to get an MBA and therefore more invested in the process. At the same time, she says, many international applicants come from cultures where parents view a child's education as an investment in their own future. Younger applicants, many of them left jobless and broke after the financial crisis, simply can't afford to pay for B-school any other way.
While fewer applicants are turning to family for financial help—63 percent in 2012 for those younger than 24, down from 67 percent in 2009—parents who agree to write those big checks don't seem to mind.
Kambria Nagy is planning to graduate from the part-time MBA program at Arizona State University's Carey School of Business in just a few weeks, on what would have been her grandmother's 100th birthday. Nagy's mother, Kathleen Lorenzen, says the date is fitting because the family, especially her grandmother, always considered education a top priority.
That's why she agreed to help her daughter, who is 28, when she explained that a master's degree would help her go further in her career in marketing and public relations. Her daughter is paying her back, little by little, whenever she can, Lorenzen says.
"We want her to be financially independent," she adds. "So far, so good. She's holding her own."
Join the discussion on the Bloomberg Businessweek Business School Forum, visit us on Facebook, and follow @BWbschools on Twitter.
Before it's here, it's on the Bloomberg Terminal.
LEARN MORE