Amazon's 'Betas' Sends Up Life in a Pseudo Silicon Valley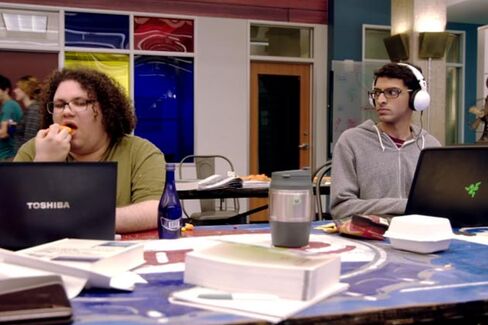 If you can peel away from the drumbeat of news coverage from Boston, you may have noticed that Amazon (AMZN) has posted 14 television pilots to its website today and is asking its users to fill in for the role of network executive. The e-commerce giant will evaluate customer reviews and data about viewing habits to decide which programs it will develop into a full series, part of a big bet to add original programming to its streaming video catalog.
We just watched one of Amazon's offerings: Betas, a half-hour comedy about life in the Silicon Valley startup lane. Shows about this subject tend to immediately raise eyebrows, particularly in the technology community, and Betas hits many of the cringe-inducing notes of predecessors such as Randy Zuckerberg's reality show, Silicon Valley. Betas makes many of the same mistakes, substituting Los Angeles glamour for Valley wonkiness and making the show's primary set, a startup incubator, into something that looks more like a high school cafeteria with two phone booths—for irony, I guess.
It's enjoyable anyway. Karan Soni plays a programming prodigy named Nash, with Joe Dinicol as Trey, his too-handsome business partner who cons his way into a venture capitalist's party by giving his name as "Larry Page." Jonathan Daly kind of steals the show as the Adderall-popping Hobbes—I'm not sure what he does at the startup—who we meet having Internet sex via his laptop in a laundromat while a child watches over his shoulder. Yep, this is for mature audiences.
For Valleyites, the richest performance comes from Ed Begley Jr. as the bong-puffing George Murchison—a variation on famed Valley investor Roger McNamee. We meet "the Murch" onstage at his own party, wearing sandals and playing in a band with Moby. Afterward he slices a large fish filet and says to his guests, "This fish was caught 20 hours ago off the coast of Loch Etive. They call it the Ferrari of trout. Anyone who dips this in soy sauce gets my maguro bōchō up their ass."
The show follows the startup crew as they try to bootstrap their way out of the incubator and raise enough money so they can add to their daily diet of tuna fish. The tension between the introverted Nash and go-getter Trey is promising and could be the heart of a successful series. Still, it is kind of ridiculous. Their startup, BRB, is making an app that sucks in its user's private information and then finds their best nearby match. One female character calls it "a stalker's wet dream." If the show gets picked up for series, here's an idea for a new character: privacy attorney.
Before it's here, it's on the Bloomberg Terminal.
LEARN MORE