More MBA Grads Are Switching Careers as Job Market Improves
An improving economy is spurring young executives to switch careers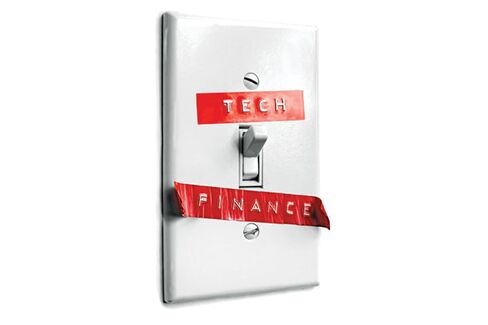 Joya Zuber plans to move to San Francisco after she graduates from Dartmouth College's MBA program in June, even though no Bay Area job awaits her. After four years at Goldman Sachs followed by three at a New York hedge fund, the 30-year-old hopes to manage a team of engineers at a tech startup. "I'm willing to be patient if it means coming out of school with a job I love and not just a job," she says.
Like Zuber, the vast majority of MBA candidates arrive at business school determined to make a career change. Yet because of the weak economy, the number of graduates breaking into a new field fell in 2010 and 2011. Students hesitated to pass on the first job offers that came their way—even if it meant going back to their old industries.
That trend is now reversing. Sixty-four percent of MBAs who graduated in 2012 entered a new industry, up from 55 percent in 2011 and 52 percent in 2010, according to the Graduate Management Admission Council (GMAC), which administers the GMAT exam. The fact that companies are once again willing to take on management-level hires with relevant—though not direct—industry experience is a strong indicator of an improving MBA job market. "When the labor market is flat, employers want to hire someone who is the exact perfect fit," says Peter Cappelli, director of the Center for Human Resources at the University of Pennsylvania's Wharton School. "In their mind, that's someone from the same industry who has done the same work. Ideally, they want to hire someone who did the same thing for a competitor."
Columbia Business School, Dartmouth's Tuck School of Business, and Northwestern's Kellogg School of Management all saw the level of switching among MBAs rebound last year and expect it to continue. Stephen Pidgeon, associate director of Tuck's career development office, says salaries for switchers are often in line with those of classmates who remain in their industry, though returnees are sometimes able to negotiate up from the entry-level MBA pay package. "An MBA from a top institution remains one of the strongest ways to change industries or job functions, and we saw that get stronger over the last hiring cycle," says Michael Malone, managing director of Kellogg's career management center. "I think that will be equally strong if not stronger this cycle."
Management consulting, followed by energy and health care, were the most popular industries for MBA graduates last year, according to data compiled by GMAC. The public sector, nonprofit work, and manufacturing were the least favored. Also, fewer graduates are heading into finance as Wall Street companies cut jobs and compensation. Last year, for the first time, the finance industry had more employees depart for MBA programs intending not to return than it had business students looking to break in, according to the GMAC data.
In contrast, management consulting—a perennial favorite for MBAs—has grown in popularity thanks to a hiring boom. At Bain the number of new MBA grads has risen 25 percent since 2010, and the firm reports it took on more in 2012 than any other year in its history. "Our hiring is fast approaching 400 MBAs per year globally," says Russ Hagey, Bain's chief talent officer.
The Bureau of Labor Statistics expects the number of management consulting jobs to increase 22 percent between 2010 and 2020. Career switchers tend to gravitate toward consulting because it can offer exposure to a wide variety of industries and can position them favorably for attractive job opportunities down the road, says Char Bennington, director of career management at the University of Chicago's Booth School of Business.
At Booth, 30 percent of the 2012 graduating class took consulting jobs, up from 24 percent in 2010. As more MBAs move over to consulting, Bennington says the school has invited a variety of boutique firms to start recruiting on campus and has reached out to incoming students during the summer to get career transitions started early. Columbia Business School is testing a program this summer that will send career counselors to meet one-on-one with newly admitted students in cities from San Francisco to Hong Kong. The early outreach is to prepare career switchers eyeing industries such as consulting and consumer products, which start recruiting on campus as early as September. They need to "think about how they will market and pitch themselves in a very fast fashion," says Bradley Aspel, director of career education and advising at Columbia Business School.
Dartmouth's Tuck School rolled out an internal social network last summer that connects incoming students with career counselors before classes start. That interaction is likely to increase this summer, according to Tuck's Pidgeon, who says students are becoming more selective and turning down offers. "Once again, there's that sense that 'I didn't come to B-school to settle. I came to get my dream job.' " he says.
Before it's here, it's on the Bloomberg Terminal.
LEARN MORE