M&A News: Sprint Nextel, Thermo Fisher, D.E Master Blenders, Royalty Pharma
Noteworthy expenditures of the week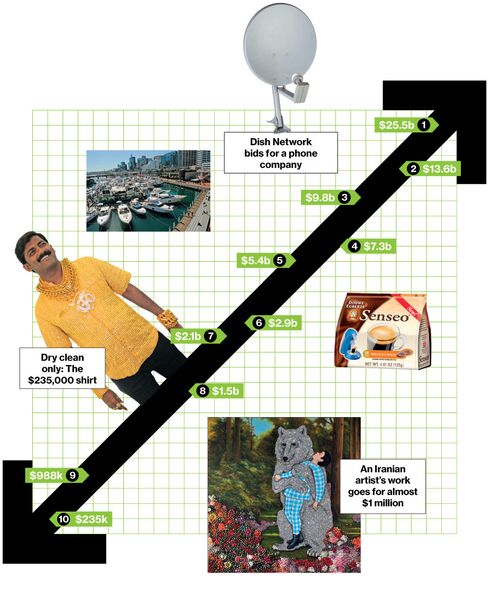 1. Dish Network made a $25.5 billion bid for Sprint Nextel that may disrupt Sprint's previous merger deal with SoftBank, the Japanese mobile phone company.
2. Massachusetts-based Thermo Fisher Scientific will pay $13.6 billion for California's Life Technologies, a maker of lab equipment used for gene mapping and medical testing.
3. In what is the coffee industry's biggest deal to date, Joh. A. Benckiser, the investment arm of the billionaire Reimann family, is buying D.E Master Blenders 1753 for about $9.8 billion.
4. Royalty Pharma, an investor in drug royalty payments, offered to buy Irish drugmaker Elan for as much as $7.3 billion, threatening Elan's plan to embark on its own acquisitions.
5. A group including Industry Funds Management and a unit of Abu Dhabi Investment Authority will pay $5.4 billion to lease two Australian ports.
6. German automaker Daimler sold its stake in Airbus parent EADS for $2.9 billion to focus on its auto business.
7. To gain funds for acquisitions, European media conglomerate Bertelsmann plans to raise $2.1 billion from selling part of its stake in broadcasting unit RTL Group.
8. ING U.S., the American insurance unit of ING Groep, plans to raise as much as $1.5 billion in an initial public offering.
9. Secret Garden, a painting by contemporary Iranian artist Farhad Moshiri, fetched $987,750 at a Christie's auction of Middle Eastern art.
10. A gold-obsessed moneylender named Datta Phuge reportedly paid more than $235,000 for a clunky, unwashable button-down shirt made of the precious metal. To ensure his and the shirt's safety, Phuge travels with a security guard.
Before it's here, it's on the Bloomberg Terminal.
LEARN MORE