Japan's Central Bank Uses Psychology to Spark Inflation
The Bank of Japan is trying to build up public expectations of inflation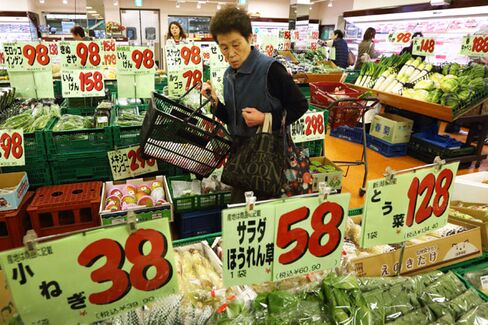 Japan's long battle against deflation may finally be ending—or so Japanese officials want us to believe. Policymakers know that public expectation of more deflation can become self-fulfilling, so they're trying to change the way ordinary Japanese think about prices. They see the fight against deflation not just as one that involves measures like quantitative easing, but also psych warfare: Once Japan's consumers and business leaders believe prices will start rising, there's a better chance people will go out and spend, putting pressure on prices to go up.
Hence the speech on April 18 by Ryuzo Miyao, a member of the Bank of Japan's policy board who said deflation will end in the current fiscal year, which started on April 1. "The achievement of 1 percent inflation in fiscal 2014 has come into sight," Miyao said. "The public's inflation expectations will rise gradually, and in this situation the inflation rate is likely to rise above 1 percent during fiscal 2014."
Prime Minister Shinzō Abe won election last year on a pledge to fight deflation through "unlimited" stimulus from the Bank of Japan, and soon after, the central bank introduced an inflation target of 2 percent. At the time, that seemed unrealistically high, but now there's a new central bank governor, Haruhiko Karuda, who's much more in line with Abe's thinking. This month the Bank of Japan endorsed more monetary easing, announcing plans to purchase 7.5 trillion yen ($76.5 million) of bonds and double the country's monetary base over two years.
In his speech today, Miyao said inflation would indeed reach that 2 percent target, and fairly soon. "The actual inflation rate is projected to continue to rise, approaching the 2 percent price stability target," he said. How soon will Japan get there? According to Miyao, the Bank of Japan decided at its April 3-4 meeting to commit to 2 percent inflation "at the earliest possible time, with a time horizon of about two years."
It's way too early to declare victory, but the Abe team's efforts to weaken the yen and revive inflation have won fans among Japanese exporters. Today, for instance, brought some surprisingly strong export numbers. Thanks largely to the weaker yen, which has lost nearly 20 percent of its value over the past six months, Japan's exports increased 1.1 percent last month compared with March 2012. That's much better than the mean estimate of 0.2 percent growth predicted by 22 economists surveyed by Bloomberg. Meanwhile, Japan's trade deficit nearly halved, shrinking to 362.4 billion yen, compared with 777.5 billion in February.
The success so far of Abenomics has led some optimists to make especially bullish predictions about Japan. Case in point: Daiwa Securities strategist Kazuhiro Miyake said in a report published on Tuesday that Japanese stocks were entering a long-term bull market. If the ruling Liberal Democratic Party regains control of the upper house of the Japanese Diet in elections this summer, Abe will be the country's strongest leader since Junichiro Koizumi, who served as premier from 2001 to 2006. "This would mean a supportive climate for the stock market over the next five or six years," wrote Miyake, adding that "the Nikkei [225 stock index] could rise to 30,000-35,000 and TOPIX [index] to above 2,500 by around 2020."
How far of a jump would that be? The Nikkei, even after a 27 percent gain so far this year, closed today at 12,220. The Topix is up 30 percent this year and today closed just shy of 1,123.
Before it's here, it's on the Bloomberg Terminal.
LEARN MORE