Fischer Urges Europe to Take Banking Problems Seriously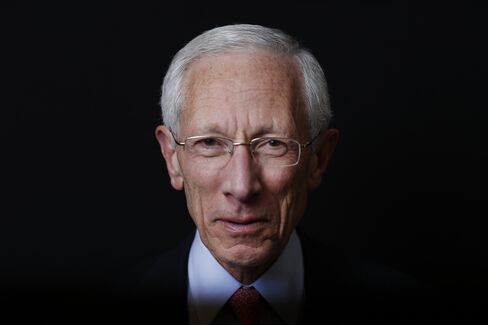 April 18 (Bloomberg) -- Bank of Israel Governor Stanley Fischer said Europe remains the weak link in the global economy and European Union officials need to tackle the continent's banking problems.
Europe "is up and down and still the weakest part of the global economy," Fischer said in an interview in Washington with Bloomberg Television today. Europe has to "really take their banking-sector problems seriously."
Fischer contrasted the European approach to that of the U.S., which in 2009 put banks through stress tests and forced them to recapitalize.
"The problems in some of the European countries haven't been recognized yet," he said.
Fischer said the Bank of Japan's effort to stimulate the economy "certainly goes in the right direction" though "how big the impact will be is hard to tell."
The BOJ announced plans earlier this month to embark on record monetary easing. The BOJ plans to purchase 7.5 trillion yen ($76 billion) of bonds a month and double the monetary base in two years, the central bank said April 4.
The yen has fallen in reaction to the decision, prompting some countries to criticize the policy. Fischer said Japan needs to be given the benefit of the doubt after "being as sick as it was for as long as it was."
"You've got to cut them some slack," he said.
Fischer's Departure
Fischer, 69, said in January he would leave the bank at the end of June. He became governor in May 2005 after previous jobs as vice chairman of Citigroup Inc. and first deputy managing director of the International Monetary Fund.
He declined to comment about his plans. Asked if he was interested in succeeding Ben S. Bernanke as chairman of the Federal Reserve, Fischer said "I prefer not to go into that at all." Bernanke's term as chairman ends in January 2014.
Bernanke has "had a phenomenal impact on monetary policy," Fischer said. "I think we're all very lucky he, and the Fed that he's the chairman of, have done what they have done. We thought in October and November of 2008 that we were heading for a great depression. We got nowhere near there."
Earlier, Fischer said he's worried about the use of unconventional monetary policies around the world, which make measures to slow capital inflows a necessity in some countries.
"One has the impression from the press that we all love doing these complicated things and that quantitative easing fills us with a sense of power," Fischer said today at a seminar in Washington.
Messy Policy
"Actually, it fills me with a sense of worry. And it's not like doing ordinary monetary policy. It's messy, it's ugly, you're always struggling to come up with something," he said. "And if we didn't have to be in this world we'd feel much better. But we do have to be in this world, so we're trying to deal with it."
The International Monetary Fund trimmed its global growth forecast this week and urged European policy makers to use "aggressive" monetary policy as a second year of contraction leaves the euro area's recovery lagging behind the rest of the world.
The global economy will expand 3.3 percent this year, less than the 3.5 percent forecast in January, after 3.2 percent growth in 2012, the Washington-based fund said April 16, cutting its prediction for this year a fourth consecutive time.
The euro area still faces a contraction of credit as banks fail to translate the European Central Bank's low interest rates into affordable credit for companies and households. IMF Managing Director Christine Lagarde said ECB policy is "spinning its wheels" and called for a recapitalized and restructuring banking system.
To contact the reporter on this story: Rich Miller in Washington at rmiller28@bloomberg.net
To contact the editor responsible for this story: Chris Wellisz at cwellisz@bloomberg.net