In Job Search, Europe's MBAs Take Roads Less Traveled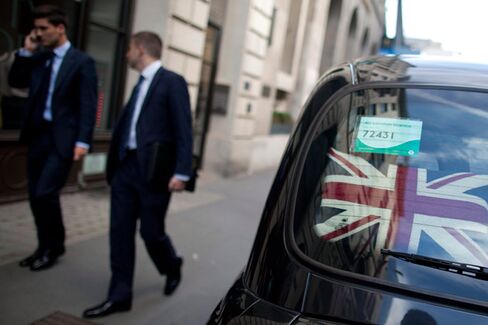 Europe may be in an economic funk, but you wouldn't know it from the job placement statistics being reported by top MBA programs on the continent. Big shifts in job preferences among graduates are shielding most MBAs from the worst of the doom and gloom.
The top European business schools—even those located in countries like Spain, where the unemployment rate hovers around 26 percent—are reporting high placement numbers for recent MBA grads, with starting salaries and bonuses in line with what their peers at U.S. schools are commanding. And the jobs aren't all located outside Europe. In fact, three out of five grads are choosing to stay on the continent post-MBA. How are the schools helping their students find success on the job front? By taking a page out of the investing textbook and urging them to diversify.
Ten years ago there were three industries that the majority of grads from European MBA programs targeted: finance, consulting, and marketing, according to student-reported data collected by Bloomberg Businessweek. Twenty-three percent went into finance, 23 percent into consulting, and 19 percent into marketing.
Today, grads are eyeing a much wider variety of industries upon earning their degrees. Consulting remains popular, with nearly a third of European MBA grads going into the industry, but after that, there isn't a clear favorite. Fifteen percent of the class of 2012 headed into marketing, 15 percent into finance, 10 percent into operations, and another 10 percent into entrepreneurship, an area where interest has nearly doubled in the past decade.
Even London Business School, traditionally a direct pipeline to the banking and consulting industries, is experiencing the shift. At LBS, 2012 marked the first time the corporate sector was the most popular destination for an MBA graduating class. And it doesn't appear to be an anomaly: More than half of the LBS MBA class of 2013 held internships in the corporate sector in 2012.
"Students are looking for different jobs now," says Helga Kirchner, director of career services at ESADE in Spain, where 92 percent of the class of 2012 had secured a job three months after graduation, the same number as the year before. "They have a more global, entrepreneurial mind-set, and more are looking for new, smaller companies, not just the big names."
Five years ago, ESADE reported that only 5 percent of grads targeted the tech sector. Today, jobs at companies such as Amazon and Google are as popular as consulting positions. "The technology area is one that these students understand and have a connection to," Kirchner says. Additionally, the percentage of students going into health care (13 percent) is larger than that of students going into finance (12 percent) at the Spanish B-school.
Due in part to this growing diversity of interests from students, ESADE is working to increase the pool of European companies that MBAs have access to by tackling language barriers. "If a company requires a prospective hire to speak the language of the country, students can be very restricted on which countries they can work in," Kirchner says. So her team has undertaken a new development strategy to identify companies that are open to hiring students who don't necessarily speak the national language. And it's paying dividends. A recent Japanese student who doesn't speak German, for instance, was able to find a job at Red Bull in Salzburg, Austria. A student who hails from Latin America found work with Deutsche Telekom in Berlin, though she doesn't speak German.
Elsewhere, at INSEAD in Fontainebleau, France, career services director Mary Carey has seen a sharp rise in MBAs interested in positions that will make a social impact. "They want to feel like they're making a difference," she says. "Five years ago you wouldn't have heard that." The benefit of this new mind-set, Carey says, is that it's pushing students toward sectors that weren't as popular in the past. "It's increased the interest in corporate-sector roles, as more corporations are looking to add sustainability or social impact facets to their business," she says.
European MBA grads have also become more open to accepting a job in a nontraditional locale. Claire Lecoq, director of marketing, admissions, and career services at IMD in Lausanne, Switzerland, has observed an increasing number of students looking to Africa to work post-MBA during the past year or so. And at INSEAD, the Middle East has become a popular destination. Carey says about 65 members of the MBA class of 2012 accepted positions in the region, specifically to Dubai, and mostly for consulting roles. "That's where the needs are," she says.
Join the discussion on the Bloomberg Businessweek Business School Forum, visit us on Facebook, and follow @BWbschools on Twitter.
Before it's here, it's on the Bloomberg Terminal.
LEARN MORE