With Plans to Go National, Fairway Goes Public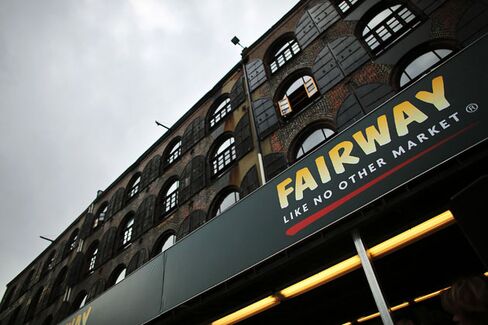 Investors are gobbling up shares of Fairway (FWM) in its first day on the market. The 12-store New York grocer has declared its intent to bring its pickle bins and house-brand olive oil across the country, and traders are all for it: Shares sold for $13 apiece in its IPO and quickly climbed to $17 today, a price that gives the company a relative value greater than such competitors as Whole Foods and Safeway.
Investors seem to think Fairway is in a strategic sweet spot. It carries many of the staples found in traditional grocery stores, but most of its revenue comes from high-margin offerings such as fancy produce and prepared foods—the same stuff that feeds profits at companies like Whole Foods. At the Fairway store on Manhattan's 125th Street, there's a walk-in meat cooler and a display case where smoked salmon is stacked like pink firewood.
The company's potential for growth is impressive, its plans ambitious. From 2009 to 2012, it opened four stores and increased annual sales by almost two-thirds. It plans to cut the ribbon on an additional three or four stores a year; ultimately, it envisions 300 locations nationwide, according to its IPO prospectus. (Whole Foods has 340 in the U.S., the U.K., and Canada.)
Opening stores, however, is expensive. Beyond financing and building a location, Fairway's labor and marketing costs are higher than normal until a store is established. Fairway's financials look better when store-opening expenses are stripped out, but they still don't look great. Even without those costs, it would have posted a loss in two of the past three years, which makes today's IPO pop a perplexing one.
Investors are right to be excited about growth. But this isn't Facebook-style growth; it's grocery growth—a historically lean business. For example, Whole Foods, with all its slick displays and pricing power, posted a 4 percent profit margin last year. That doesn't sound great, but it represents $466 million of income.
Maybe investors think the IPO cash will help Fairway expand more efficiently. Or maybe they're just wowed by that stunning smoked salmon.
Before it's here, it's on the Bloomberg Terminal.
LEARN MORE