The B-School Love Affair With Wall Street Cools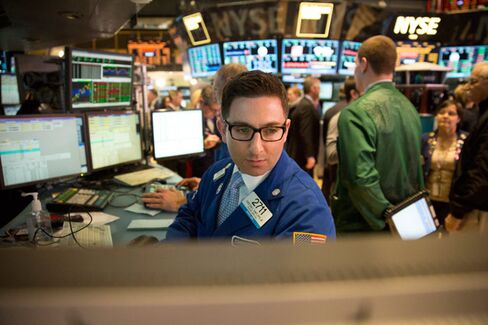 When David Kralik enrolled in the MBA program at the Thunderbird School of Global Management in 2010, he was intent on a job in finance. He worked a summer internship at American Express and considered investment banking, but quickly soured on the idea. It wasn't the 14-hour days typical of the industry, but the heightened regulatory scrutiny, slashed pay at big banks, and uncertainty about the industry's future that killed his Wall Street dreams.
Two years later Kralik found himself in a marketing job at Dashlane.com, a new venture that manages passwords for clients, where he says he feels far more important than he would as a finance desk jockey. "Goldman Sachs probably does change the world in some way," Kralik says. "But there, you feel less empowered than you would at a 30-person startup."
Kralik is hardly alone in this view. In the recession's wake, as Wall Street curbed its MBA recruiting, many MBAs with dreams of finance jobs have found themselves changing course, opting instead for jobs in consulting, technology, and supply chain management, among others. Finance still hires MBAs by the boatload, but the boats are smaller: At Harvard Business School, about 35 percent of the Class of 2012 went into finance, down from 45 percent in 2008. And many of those jobs are at boutique firms, not the big boys.
"There are more interested students than opportunities," says Kristen Fitzpatrick, senior director of MBA career and professional development at HBS.
It's not just a lack of opportunities, though. Many MBAs no longer come to business school intent on gaining a job in finance. According to data from the Graduate Management Admission Council, which surveyed more than 15,000 prospective business school students in 2012, the number considering careers in the finance and accounting industries fell to 23 percent, down from 29 percent the year before.
A new generation of business students, motivated largely by the desire to effect change, is instead pursuing careers in startups, technology, and social entrepreneurship ventures, and the one-on-one job search has become the norm. To accommodate the change, HBS has increased the number of career coaches on campus from three 10 years ago to 43 today. Similarly, the University of Chicago's Booth School of Business began with one staffer handling employer outreach in 2001; it now has 11, some of them based overseas, says Julie Morton, associate dean of career services and corporate relations at Booth.
If there's one big winner in the demise of finance, it is consulting, probably the only industry in which salaries match or exceed those in financial services. For example, 22 percent of 2012 MBA graduates from New York University's Stern School of Business took jobs in investment banking, down from 31 percent in 2010. Over the same period, the proportion snagging jobs in consulting rose from 15 percent in 2010 to 22 percent in 2012. In 2012, salaries for Stern grads in investment banking jobs averaged $103,254; consulting salaries averaged $126,696.
Business schools are encouraging the shift to consulting, suggesting that students who are on the fence about finance consider such employers as McKinsey, Bain, and Boston Consulting Group, says Mark Peterson, president of the MBA Career Services Council.
Investment banking jobs will continue to be attractive to many MBAs if for no other reason than pay. With tuition and fees for top MBA programs in some cases exceeding $100,000, investment banking remains one of the few career paths that allow graduates to repay student loans relatively quickly.
To attract a new generation of MBAs, the banks are finding that they need to retool, says Rob Dicks, who advises banks on talent issues as leader of Deloitte's Human Capital Financial Services practice in New York. Work-life balance has become more important, he says. And once-lavish MBA recruiting events have been toned down.
And for those who opt for non-finance careers? "The loans are going to take longer to pay off than the initial forecast," says Kralik. "But I'm much happier to be in a place knowing I can make a difference."
Join the discussion on the Bloomberg Businessweek Business School Forum, visit us on Facebook, and follow @BWbschools on Twitter.
Before it's here, it's on the Bloomberg Terminal.
LEARN MORE