IMF Cuts Global Growth Outlook as Europe Demand Urged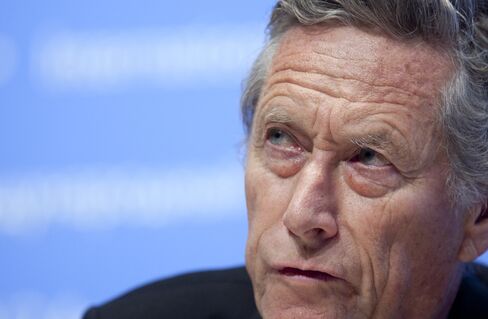 The International Monetary Fund trimmed its global growth forecast and urged European policy makers to use "aggressive" monetary policy as a second year of contraction leaves the euro area's recovery lagging behind the rest of the world.
The global economy will expand 3.3 percent this year, less than the 3.5 percent forecast in January, after 3.2 percent growth in 2012, the Washington-based fund said today, cutting its prediction for this year a fourth consecutive time. The Washington-based IMF sees the 17-country euro area shrinking 0.3 percent, compared with a 0.2 percent retreat in January, with France joining Spain and Italy in contracting.
"The main challenge is still very much in Europe," IMF Chief Economist Olivier Blanchard said in a recorded statement released with the fund's World Economic Outlook. "Europe should do everything it can to strengthen private demand. What this means is aggressive monetary policy and what this means is getting the financial system to be stronger -- it's still not in great shape."
As central banks in the U.S. and Japan deploy unconventional policies such as asset purchases to rouse demand, pressure is mounting on the European Central Bank to do more. The IMF report describes a "three-speed" recovery led by emerging markets including China, with the U.S. forging ahead and Europe trailing after fighting a debt crisis that has forced bailouts of five countries in the region.
Recession Chance
"This slump in Europe is worrisome," Blanchard said at a press conference in Washington today.
While a 50 percent chance of a recession in the euro region is the most immediate threat to global growth, failure to devise debt reduction plans in the U.S. and Japan over the medium term would also have consequences, according to the report.
Japan's plans for fiscal stimulus and record monetary easing were reflected in the fund's new forecasts for the world's third-largest economy, which were raised to 1.6 percent this year from 1.2 percent and to 1.4 percent in 2014 from 0.7 percent. Blanchard said the Bank of Japan's move was "appropriate" and its impact on the yen "a logical consequence."
The U.S. growth projection was reduced to 1.9 percent, from 2 percent in January, to incorporate the expected impact of across-the-board spending cuts known as sequestration.
Still, a recovering housing market, improving confidence and the Federal Reserve's accommodative monetary policy will help growth accelerate to 3 percent in 2014, the fund said.
2014 Forecast
The forecast for global growth next year is 4 percent, compared with 4.1 percent in the IMF's January projections.
In the report, the fund said advanced economies had defused the two biggest threats to the global recovery -- a splintering of the euro region and the so-called U.S. fiscal cliff.
The Standard & Poor's 500 Index gained 0.6 percent at 10:41 a.m. in New York, rebounding from yesterday's drop that was the biggest in five months. The Stoxx Europe 600 Index fell 0.7 percent. Japan's currency dropped more than 1 percent against all 16 major counterparts, falling most versus the New Zealand dollar and the Mexican peso.
"There appears to be a growing bifurcation between the United States on one hand and the euro area on the other," Blanchard wrote in a foreword to the report. "Given the strong interconnections between countries, an uneven recovery is also a dangerous one."
The euro region is still facing a contraction of credit as banks fail to translate low interest rates of the European Central Bank into affordable credit for companies and households.
Wheels 'Spinning'
"Because of insufficient financial repair, monetary policy is 'spinning its wheels,'" IMF Managing Director Christine Lagarde said in a speech last week. "The priority must be to continue to clean up the banking system by recapitalizing, restructuring, or -- where necessary -- shutting down banks."
The fund sees a contraction deepening in Italy to 1.5 percent from 1 percent in January and in Spain to 1.6 percent from 1.5 percent. France's gross domestic product this year will shrink 0.1 percent, instead of growing 0.3 percent as predicted three months ago, the IMF report said.
Slovenia, where borrowing costs have surged on concerns it may need a bailout, has a banking system problem "that can be dealt without major problems" if the government acts expeditiously, Jorg Decressin, the deputy director of the IMF's research department, said at the press conference.
The IMF said the ECB has room to cut interest rates further and suggested that the central bank's bond-purchase program, which must be requested and has never been used, "be made available to countries with programs that are delivering on adjustment."
Germany's Expansion
With Germany's economy forecast to grow 0.6 percent, less than the 0.9 percent expansion last year and unchanged from January, "this may call into question the ability of the core to help the periphery, if and when needed," Blanchard wrote.
In contrast, challenges for many emerging and developing markets include avoiding over-stimulating their economies and managing capital flows, according to the report.
"Fundamentally attractive prospects in emerging market economies, together with low interest rates in advanced economies, are likely to lead to continuing net capital inflows and exchange-rate pressure in many emerging market economies," Blanchard wrote. "This is a desirable process and part of the global rebalancing that must take place if the world economy is to get back to health."
Developing economies are seen growing 5.3 percent this year, compared with 1.2 percent for their advanced counterparts, according to the report. While it's less than the 5.5 percent forecast in January, it is still faster than expansion of 5.1 percent last year, according to the IMF.
China, India
China's 2013 growth projection was cut to 8 percent from 8.2 percent and India's to 5.7 percent from 5.9 percent, the report showed. While Brazil's expansion was lowered to 3 percent from 3.5 percent in January, the forecast for next year was unchanged at 4 percent.
Still, inflation remains under control and commodity prices are set to decline 2 percent this year compared with 2012 as supplies increase for raw materials including crude oil and grain, the fund said.
In its report, the IMF said currencies generally "have responded appropriately to recent changes in macroeconomic policies and falling risk aversion."
The yen has weakened about 12 percent against the U.S. dollar this year, British pound has dropped about 6 percent and the euro has slipped 0.5 percent, according to data compiled by Bloomberg.
"There are still many challenges and things can still go wrong," Blanchard said in the recorded statement. "The recovery is just not assured."