Bombings Heighten Runners' Commitment to 2014 Boston Marathon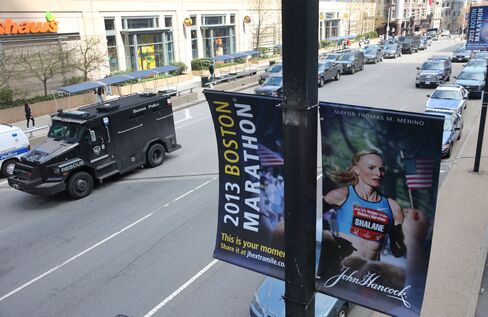 The 2014 Boston Marathon has moved atop the goal lists of runners who have found a new reason to seek qualification for the world's oldest annual 26.2-mile race.
"I didn't have any desire to run Boston until yesterday," James Ford, a 41-year-old runner and triathlete from Memphis, Tennessee, said in a telephone interview a day after the deadly bombings at the race. "Next year, you are going to have more people than ever. Determination is not something to be messed with."
Ford, who would need to cut about 1 hour, 45 minutes off his personal-best time of five hours to qualify for the race, is among the athletes responding to the attacks with plans to earn a spot on the starting line in Hopkinton, Massachusetts, instead of running away from it.
"It's going to be a challenge," Ford said. "It may happen in 2014 or 2015, but it's now going to be one of my goals."
Two bombs exploded near the finish line in Boston two days ago as recreational runners completed the race, which has been held annually since 1897. Three people were killed and more than 175 were injured, officials said.
At least 34 more marathons are scheduled in the U.S. before the end of April, including in Salt Lake City on April 20 and the Kentucky Derby Festival Marathon seven days later, according to Marathonguide.com.
Soon after the Boston bombing, Justin Herbert, a 26-year-old cross country and track coach at North Carolina's Montreat College, created a community Facebook page for the 2014 race to "honor the victims and tell the world we will not be deterred."
'Not Scared'
"It's going to backfire on the people who planned this," Herbert said in a telephone interview. "Runners are very brave. We're not scared of much."
While Herbert qualified for the 2007 and 2012 Boston marathons, he didn't run because of his duties as coach. He said he won't skip the 2014 event and urged others to join him.
"My goal is to try to encourage people to continue to run and continue to train and to do so in a manner that is honoring and remembering those who were victims in this year's attack," Herbert said. "Remember and return."
Scott Dickey, chief executive of Competitor Group Inc., which owns and operates 83 running, triathlon and endurance sports events around the world, said the Boston bombings won't deter runners.
'American Psyche'
"I don't think this was an attack on the marathon or runners, this was an attack on the American psyche," Dickey said in a telephone interview. "But they attacked the wrong industry. If you think about what it takes to qualify for the Boston Marathon, you're talking about people that are pretty tough and pretty gritty already. They are used to being able to overcome, withstand and resist trauma."
The issue for many runners not already registered for a marathon between now and the 2014 race is finding one to train for and finish before registration closes. Boston registration for the 2013 race ended last Oct. 11, one month after it opened, with 27,000 runners accepted. Unlike other marathons, Boston requires general-entry runners to meet qualifying time standards based on their age on the race's scheduled date. This year's race was the first since 1990 in which qualifying standards were made more difficult by five minutes for all ages.
The June 22 Grandma's Marathon in Duluth, Minnesota, has had 40 registrants in the past two days, the highest two-day total in the past two weeks, race spokesman Bob Gustafson said yesterday in an e-mail.
Race Search
Carmen Brahim, a 40-year-old Ironman triathlete from Alpharetta, Georgia, said she is now searching for a race to enter to try to qualify in time. She compared the Boston race to the pinnacle of triathlons, the Ironman World Championships held annually in Kailua-Kona, Hawaii.
"To me, Boston is like Kona," Brahim said. "Long term, I definitely wanted to try, but this year it was not something I was thinking of doing at all. After yesterday, I just decided that would be my goal for the year."
Brahim moved to the U.S. from Spain in 1996 and was in the Atlanta area at the time of the Centennial Olympic Park bombing that killed two people and injured 111. Now with two U.S.-born children, ages 6 and 4, Brahim said the Boston incident has affected her even more.
"One of the things that attracted me to come here was the fact that I always saw the United States as a place you can go to make your dreams come true," she said in a telephone interview the day after the bombings. "What attracts us all to running is that you have your freedom. You feel that you own everything around you. Yesterday, it felt like a threat to what I feel when I'm running. I'm not going to let them think they can take that away."