French Open Boosts Pay Cheque for Champions, Early Losers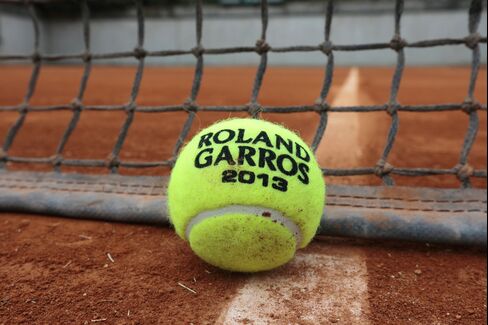 The winners of next month's French Open will receive a record 1.5 million euros ($2 million) each, while early-round losers will get the biggest raise as the clay-court tennis major responds to player demands for more equal distribution of prize money.
The Paris tournament will pay the singles champions 20 percent more than last year, while first-round losers will get 17 percent more. The biggest increase has been given to losers in the second, third and fourth rounds, who will all be paid 25 percent more, the event said in an e-mailed statement today.
"A better distribution of winnings guides our thinking on pay," said Gilbert Ysern, director of the tournament and director-general of the French Tennis Federation, or FFT. "In this case, the FFT hopes to continue its efforts with regards to players who are eliminated in the first week."
Last year, the French Open was the first of the four majors to change its distribution of prize money as it increased pay for the early rounds of the main draws as well as the qualifying tournament. That followed calls from players on the men's ATP World Tour for a more even distribution of revenue generated by the four Grand Slam events: the Australian Open, the French Open, Wimbledon and the U.S. Open.
Today's increases are part of a four-year plan to boost prize money by 10 million euros through 2016, the French Open said.
'Truly Significant'
"The Roland Garros prize money increases are another positive step forward for our players and we welcome the long-term commitment the FFT has made through 2016," Brad Drewett, ATP executive chairman and president, said in an e-mailed statement. "The progress that has been made through our discussions with the Slams over the past 15 months has been truly significant for our sport as a whole."
Players who exit the French Open in the second round next month will receive 35,000 euros, or 7,000 euros more than in 2012. Third-round losers will get 60,000 euros, while a departure from the fourth round is rewarded with 100,000 euros.
In the past 12 months, Wimbledon, the U.S. Open and the Australian Open have all followed the example set by Roland Garros and boosted prize money for the early rounds.
The prize-money pot in Paris totals a tournament record 22 million euros, or 3 million euros more than last year. That compares with A$30 million ($31.3 million) at this year's Australian Open, and $29.5 million at the 2013 U.S. Open. Wimbledon will announce its prize money next week.
The French Open starts May 26. Spain's Rafael Nadal and Maria Sharapova of Russia are the defending champions.