Woodside Scraps $46 Billion LNG Plan as Building Costs Climb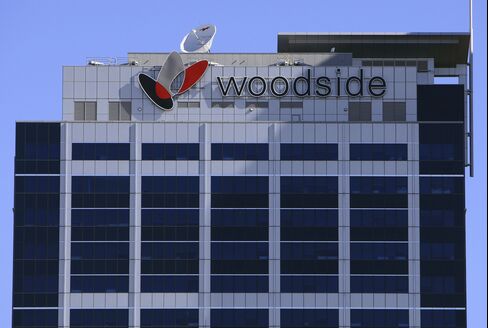 Woodside Petroleum Ltd., Australia's second-largest oil producer, scrapped a plan to build an onshore liquefied natural gas project estimated at $46 billion in favor of studying cheaper options as costs rise.
The Browse venture partners, including Royal Dutch Shell Plc and BP Plc, will consider a floating LNG plant offshore, a pipeline to existing facilities in Western Australia or a smaller onshore plant, the Perth-based company said today in a statement. The Hague-based Shell said that its floating LNG technology is the best way to develop the project.
"It's the right decision to shelve it," Andrew Williams, a Melbourne-based analyst at RBC Capital Markets, said today by phone. "I don't think anyone in the investing community thinks the Browse plant was anything but a marginal project."
Woodside shares gained the most in six weeks after Chief Executive Officer Peter Coleman also said the company will consider speeding the return of capital to investors. Australia's LNG industry, which has almost $200 billion of projects under development to tap rising Asian demand, is being hurt by rising construction costs with energy producers from Chevron Corp. to BG Group Plc announcing budget overruns.
Woodside rose 3.2 percent to A$36.40 in Sydney, the most since Feb. 28, while the benchmark index gained 0.1 percent.
Cost Escalation
The companies had planned to send natural gas from three fields off the Western Australia coast to a processing plant at James Price Point in the Kimberley wilderness region. That development would have cost A$44 billion ($46 billion), according to estimates by Deutsche Bank AG.
"Unfortunately the cost escalation has been such that the total costs for Browse have resulted in the current development concept not being commercial," Coleman said today in a separate statement, declining to give an onshore cost estimate.
While the Browse proposal attracted opposition from some environmental groups, the decision to drop the plan was a commercial one, according to Coleman.
The venture's lease for Browse runs out at the end of 2014, Woodside said today. The company doesn't expect any significant writedowns due to the Browse decision, Coleman said.
"It is inevitable that this project will now be developed through floating LNG technology," with an investment decision to go ahead with the project likely before the end of 2014, Neil Beveridge, a Hong Kong-based analyst at Sanford C. Bernstein & Co., said today in a report.
Endemic Over-runs
Delays and spending over-runs are endemic, according to Bernstein, which estimates that projects in Australia run from 15 percent to 50 percent over their original cost estimates. BHP Billiton Ltd., the world's biggest mining company, and rivals are also being dogged by surging costs. Producers of everything from gold to coal are firing workers and putting assets up for sale, as they are squeezed by unfavorable foreign exchange rates, lower prices and higher labor costs.
Woodside reached a deal last year to sell a 14.7 percent stake in Browse to Mitsubishi Corp. and Mitsui & Co. for $2 billion. BHP Billiton Ltd., Australia's largest oil producer, agreed in December to sell its stake in Browse to PetroChina Co., the nation's biggest energy producer, for $1.63 billion.
The deal with Mitsubishi and Mitsui, which included an agreement for sales from Browse, didn't have any penalties attached for delays, Coleman said.
Best Solution
Shell believes that its floating LNG technology is "the fastest, most economic and the best technical solution available for Browse," Ann Pickard, chair of the company's Australian operations, said today in an e-mailed statement.
The Browse partners probably will opt to process the gas on a floating LNG vessel after determining that the proposal for a new processing hub on the coast isn't viable, potentially leading to delays, Goldman Sachs Australia Pty's Sydney-based analysts Mark Wiseman and Anthony Ta said in a February report.
"We've been looking at other options for a period of time, and those options aren't anywhere near as mature," Coleman said at a news conference. "If you can find an alternative technology path you are comfortable with, then we could be back to the same decision point as early as two years from now."
8,000 Jobs
Shell is developing the Prelude floating LNG venture off Australia, estimated this month to cost $12 billion by Deutsche Bank's Melbourne-based analyst John Hirjee. Exxon Mobil Corp. and partner BHP plan to decide in 2014 or 2015 whether to build the Scarborough project off Western Australia, which would be the world's biggest floating LNG development.
Developing the gas resource offshore isn't in the best interests of the nation, Western Australia's Premier Colin Barnett said today in an e-mailed statement.
"While I acknowledge that this was a commercial decision by Woodside and its joint venture partners, I am bitterly disappointed," Barnett said in the statement.
Woodside estimated the project would have created as many as 8,000 jobs during construction and generated as much as A$50 billion in gross domestic product for the Australian economy.
Australia's unemployment rate climbed in March to the highest level in more than three years, the statistics bureau said yesterday in Sydney. General Motors Co.'s Holden division this week announced further job-cut plans, saying it will trim about 500 jobs while citing the local dollar's strength, and currency devaluations in competing markets.
Chevron said in December that the cost of its Gorgon LNG venture jumped 21 percent to A$52 billion on local currency gains and higher labor expenses. BG, operator of one of three LNG projects under construction in Queensland state, said last year the cost of its venture rose 36 percent to $20.4 billion because of increases in the local currency, rising labor and material costs and higher regulatory expenses.
Before it's here, it's on the Bloomberg Terminal.
LEARN MORE