Yo-Yo Ma, Fran Drescher, Greenspan for Music: D.C. Scene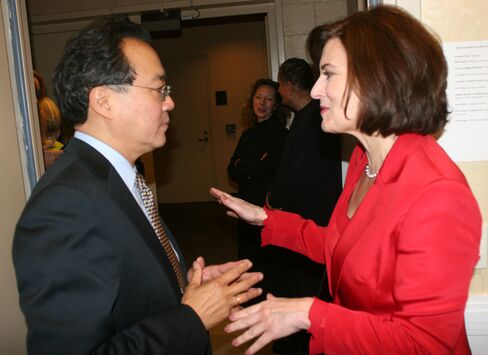 Yo-Yo Ma played chief executive touting the value of music, complete with charts and a few choice notes of his own.
As the keynote speaker Monday night for the Americans for the Arts 26th Annual Nancy Hanks Lecture on Arts and Public Policy, the acclaimed cellist spoke about "art for life's sake," pointing to graphs demonstrating the intersection of culture, economics and politics.
The cellist also performed, along with dancer Lil Buck, pianist Cristina Pato and members of MusiCorps, which uses music training and performance to help rehabilitate wounded soldiers. The MusiCorps band was led by composer Arthur Bloom, founder of the nonprofit Renovation in Music Eduation, which employs music in community work.
The audience at the Kennedy Center included Alan Greenspan, actress Fran Drescher, White House Social Secretary Jeremy Bernard and Joseph Waz, a senior strategic adviser at Comcast Corp.
In his remarks, Ma stressed that companies such as International Business Machines Corp. aim to recruit students who possess "flexibility, collaboration, innovation, and imagination," qualities Ma says arts education instills.
He showed a video clip of himself as a child prodigy performing for John F. Kennedy and Dwight D. Eisenhower. He said the experience was especially memorable because the actor and comedian Danny Kaye bent over to meet the young Ma at "eye level."
Chicago Symphony
He said he has incorporated Kaye's example into his work as a consultant to the Chicago Symphony Orchestra's Institute for Learning, Access and Training. The institute's Citizen Music Initiative promotes music in communities nationwide.
Backstage after the lecture, Ma indicated that he was keen to expand an already broad musical palette, telling Waz, an avid accordion player, that he was eager to learn the instrument. "I need lessons big-time," Ma told Waz.
At the dinner, drummer Matt Sorum, of Guns N' Roses and Velvet Revolver fame, cut a striking figure among the blue suits with chest tattoos peeking out from his black T shirt, dark glasses and black hat with red feather. (Sorum joined Ma yesterday to lobby Congress on National Arts Advocacy Day.)
The meal consisted of wild mushroom soup, salmon and lemon tart for dessert.
Queen Fan
Sorum talked about once performing a Freddie Mercury tribute with Queen fan Lyndon Boozer, a lobbyist for AT&T Inc. Boozer sat with Charles Segars, the CEO of the arts TV channel Ovation, which sponsored the evening. Segars is also the co-creator and executive producer of Disney's "National Treasure" films.
Bernard caught up with Ann Stock, undersecretary for public diplomacy at the Department of State, while Drescher dined beside Jamie Bennett, the chief of staff at the National Endowment for the Arts.
Ma sat a table with Greenspan and Congresswoman Louise Slaughter, the New York Democrat and co-chairman of the Congressional Arts Caucus.
(Stephanie Green is a writer and photographer for Muse, the arts and leisure section of Bloomberg News. Any opinions expressed are her own.)
Muse highlights include Katya Kazakina on art, Rich Jaroslovsky on technology.
Before it's here, it's on the Bloomberg Terminal.
LEARN MORE