When CEOs Return: A Cautionary Tale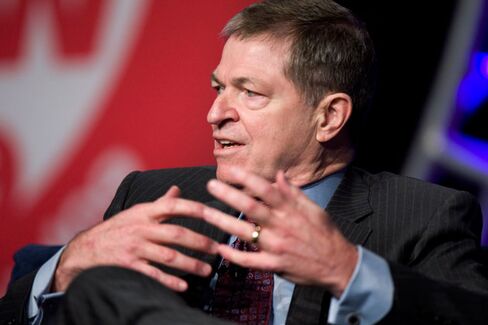 When companies hunting for a new chief have a prior CEO on the board, they reinstate the former executive one-quarter of the time, according to a 2007 study by researchers at Ohio State University. That's what J.C. Penney did yesterday, sliding Myron Ullman back into the C-suite after the ouster of Ron Johnson.
Whatever Pete Townshend may have thought, tapping an old boss is not the worst option for a board fighting to save a company. At the very least, a former chief knows the battlefield and most of the top lieutenants.
At first, markets tend to react negatively to the rehire announcement, the study said. But over time, firms that go back to the well don't tend to perform any worse than companies that hire a fresh face—at least on average. In other words, the future of J.C. Penney may be written, regardless of who has the reins.
Here's a look at five returning CEOs and how they fared in their second tour of duty.
Howard Schultz
Starbucks
First tour: November 1985 to June 2000
Second tour: January 2008 to present
Change in stock price during second tour: +218%
When Schultz left Starbucks in 2000, the company was buzzing. When he returned, it was grappling with a tightening economy and an onslaught of competition from Dunkin' Donuts and McDonald's. Schultz the sequel has presided over a string of strategic successes, including VIA instant packets, a lighter Blonde brew, and a major push into China and India.
Charles R. Schwab
Charles Schwab
First tour: January 1986 to January 1998
Second tour: July 2004 to October 2008
Change in stock price during second tour: +194%
There's a reason his name's on the door. Schwab, a Stanford MBA, has a talent for running the company and a knack for timing his C-suite stays with bull markets. As chairman, Schwab presided over the firing of David Pottruck in 2004. Pottruck had quadrupled client assets, but Schwab revenue plummeted after the tech bubble burst and he butted heads with the board over strategy.
Schwab's second turn at the wheel was marked by massive results. He ducked out before the financial storm at the end of 2008, a year the firm posted a 24 percent profit margin.
William Stavropoulos
Dow Chemical
First tour: November 1995 to November 2000
Second tour: December 2002 to November 2004
Change in stock price during second tour: +66%
Stavropoulos was a lifer, joining Dow as a research chemist in 1967. He was reinstated to the C-suite to succeed Michael Parker, another career Dow employee who put up eight quarters of disappointing numbers.
With the tailwind of a strengthening economy, Stavropoulos's second term was a resounding success. He pivoted the chemical giant to two years of hefty gains in revenue and profit.
Jeffrey Citron
Vonage Holdings
First tour: January 2001 to February 2006
Second tour: April 2007 to July 2008
Change in stock price during second tour: -51%
Citron, the founder of Vonage, was never far from the CEO seat. He still held a 30 percent stake in the company when he took the reins again in 2007. At the time, Vonage was locked in a patent battle with Verizon Communications and Sprint, while still dealing with the fallout of its disastrous IPO.
Citron settled the lawsuits and stabilized the company, though his replacement, Marc Lefar, has been more successful in pleasing shareholders.
Paul Allaire
Xerox
First tour: January 1991 to April 1999
Second tour: May 2000 to August 2001
Change in stock price during second tour: -64%
Allaire, who started working at Xerox as a financial analyst in 1966, famously helped the company win back market share from Japanese competitors in his first term as chief, though his tenure was marred by an accounting scandal.
When his successor, Richard Thoman, was canned, Allaire came out of retirement to rejoin a turbulent company struggling with a botched sales-force reorganization. Allaire's second tour was marked by a stock market swoon, but he steadied the ship a bit.
Before it's here, it's on the Bloomberg Terminal.
LEARN MORE