The Race to Contain Bird Flu in China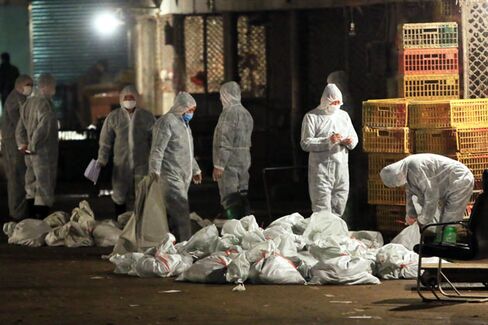 At 6 a.m. on Saturday morning, April 6, police arrived at a wholesale market in the eastern Chinese city of Nanjing to shut down all stalls selling live chickens. Last Thursday, Shanghai authorities oversaw the slaughter of 20,536 chickens, ducks, geese, and pigeons at a city poultry market. These measures are part of a widening effort to contain the spread of the H7N9 influenza virus, colloquially known as bird flu, in eastern China.
As of Sunday, the World Health Organization had been informed by Chinese authorities of a total of 21 confirmed human cases, including six deaths from the virus—all in Shanghai and the adjacent provinces of Jiangsu and Anhui. In an effort to contain the virus, the Chinese government has formed an intergovernmental task force, comprising the National Health and Family Planning Commission, the Ministry of Agriculture, and other national and local bodies.
To date, neither the WHO nor the U.S. Centers for Disease Control and Prevention, which held a conference call with reporters on Friday, is aware of any instances of the virus being transmitted between humans—a development that, if it occurred, could signal the start of a possible epidemic. CDC Director Dr. Tom Frieden elaborated on this point with reporters: "There are several things that give us some confidence that it's not spreading widely from person to person." First, he pointed to the fact that family members in China who've had prolonged contact with known bird-flu victims have not fallen ill, too. "In contrast, in influenza [that is transmitted easily between humans], you would expect at least 20 percent to 30 percent of family members to develop illness," he said. Moreover, "many or perhaps most of the cases [of H7N9 in China] … still have direct contact with live poultry," suggesting that the human bird-flu victims contracted the virus from chickens.
Yet Laurie Garrett, an expert on global public health at the Council on Foreign Relations in New York, raised the possibility on PRI's "The World" radio show that the Chinese government might not be immediately forthcoming about any instances of human-to-human transmission, if any were discovered. "All the pieces are falling into the kind of worrisome places that we [should] keep an eye on at this stage of an outbreak," she said.
One of the reasons that authorities in Shanghai and Nanjing, capital of Jiangsu province, have moved so quickly to slaughter birds and shut down poultry markets is that infected birds show no obvious symptoms—making it difficult to cull only sick animals. "Unlike H5N1 [a previous strand of bird flu that spread in Asia in the mid-2000s], where chickens were dying off on a large scale, with this virus we don't have a red flag that immediately signals an infection," Juan Lubroth, chief veterinary officer at the United Nations' Food and Agriculture Organization (FAO), said in a press statement. "This means farmers may not be aware that virus is circulating in their flock. Biosecurity and hygiene measures will help people protect themselves from virus circulating in seemingly healthy birds or other animals."
While one can only hope the Chinese government is entirely cooperative and forthcoming with international health agencies, such as the WHO, online censors have attempted to curtail public discussion within China by blocking some related search terms and posts on the popular social media site Weibo. China's Xinhua newswire and several state-run newspapers have carried details of the outbreak, but curiously, bird flu was not mentioned at all during Friday's broadcast of CCTV's flagship program, News Simulcast.
At the same time, the U.S. CDC reports receiving a deluge of calls from Western reporters, as the alarming possibility—seemingly small right now—of the H7N9 virus spreading widely beyond China's borders has for good reason attracted global attention.
Before it's here, it's on the Bloomberg Terminal.
LEARN MORE