Full Planes Boost Growth and Griping for U.S. Airlines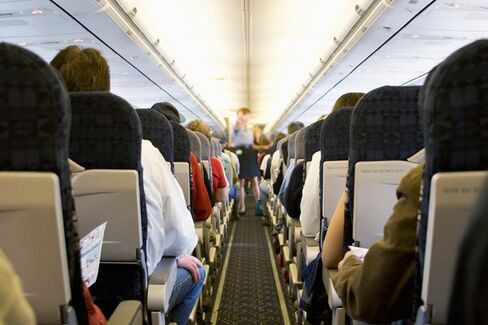 As carriers cram more seats on each jet and shrink flight offerings to just barely meet demand, travelers are increasingly being bumped, routes are being cancelled, and passengers are generally getting a little grumpy.
The push by U.S. airlines to streamline capacity and fill planes—changes that are pushing profits to record levels—generated a 20 percent increase in customer complaints last year, according to a report released this morning by researchers at Purdue University and Wichita State University.
For every 100,000 passengers who took to the skies in the U.S. last year, 1.4 complained, a 20 percent increase from 2011, the report said. Nearly one-third of customer complaints were related to schedule changes, flight delays, and cancellations.
United Airlines fared the worst of the 14 airlines in the study. For every 100,000 United passengers, 4.2 people complained, compared with 0.25 at Southwest, the lowest complaint rate in the study.
All the griping may just be the cost of success for the airline industry. Because there's a limit to how much carriers can influence fuel and labor costs—two of their biggest line items—tweaking pricing and capacity algorithms to maximize revenue has been critical. And the airlines have become quite good at it.
Load factor—how full the fleet is—jumped from 80 percent to 83 percent in the past five years, according to federal data. Average U.S. airfares climbed 12 percent in that time.
Data like those are one of the main reasons that all major U.S. carriers are expected to post a profit this year. Industry returns are also getting a tailwind from a wave of consolidation, including the 2008 marriage of Delta and Northwest, the tie-up of United and Continental two years later, and the pending merger of American and US Airways Group. In part because of those mashups, domestic carrier capacity dropped 8 percent from 2007 to 2012.
"It's kind of like the mafia's five families now," says Michael Boyd, chairman of Boyd Group International, an airline consultancy in Evergreen, Colo. "There are four major airline systems left, and they all have their own turf."
Passengers might not be thrilled, but shareholders finally are.
Before it's here, it's on the Bloomberg Terminal.
LEARN MORE