Dead Fish and Infant Formula Are the Latest Problems to Worry China's Consumers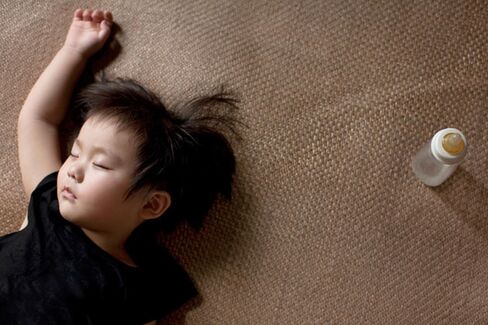 For people worried about China's potential to unleash deadly diseases and contaminated products on its own citizens and the rest of the world, every day seems to bring more bad news. First there were the dead pigs floating through Shanghai. While the pigfestation is mercifully over, China's financial hub is the center of what appears to be a spreading outbreak of a new and deadly avian flu. At the same time, a new plague has hit the city: In the past five days, the local government has hauled about 250 kilograms (550 pounds) of what the Shanghai-based Global Times newspaper describes as "putrid, dead fish" from a river in the city's Songjiang district.
Just as officials said the pig carcasses posed no threat to the city's water supply, the official China Daily newspaper is quick to reassure us that there's no reason to be concerned about the safety of the water, notwithstanding the stinky dead fish. "The water quality is stable and safe," an official from the local water authority told the newspaper. This official, identified only by surname (Zhang), suggested the cause of death was "illegal fishing by electrocution and poisoning," the newspaper reported. Likewise, we should all rest assured that can-do Chinese officials can cope with the bird flu situation. "We are confident of dealing with this effectively," Ma Xiaowei, a vice minister at the National Health and Family Planning Commission, told Bloomberg News.
Meanwhile, jittery parents across China are still coping with the aftermath of an earlier safety scare. A series of milk-safety scandals dating back to 2008, when melamine-tainted milk killed at least six Chinese babies and sickened 300,000 more, has shattered consumer confidence in local brands of infant formula. Families worried about the safety of local milk have been buying foreign brands, leading to widespread shortages. That's prompted enterprising middlemen to flock to Hong Kong, buy up as many cans of foreign-branded infant formula as possible, and then sell them back in China at a nice markup.
The Hong Kong government took steps in March to crack down on the trade, which had left local families scrambling to find formula for their own kids, by imposing a two-can-per-traveler limit on the amount people could take across the border. But the traders are still trying. The South China Morning Post on Tuesday reported on the arrest of 10 people accused of allegedly smuggling 110 containers of milk powder. Hong Kong isn't the only place feeling the impact of Chinese demand for trustworthy infant formula: Supermarkets in Britain and Australia have introduced rationing, too, according to a report in the Financial Times.
Increased demand comes at a time when the world's largest exporter, New Zealand, is enduring the worst drought in 30 years, a disaster that has hit the country's dairy farmers especially hard. Prices for whole milk powder from New Zealand last month rose to a record $5,313 a metric ton. Still, China's appetite for reliable milk could eventually be a bonanza for Kiwi farmers. China is already the country's largest market; Fonterra, the cooperative that dominates the New Zealand dairy industry, last year sold NZ$2 billion (US$1.7 billion) worth of milk products to China and is counting on Chinese demand doubling by the end of the decade. To meet China's thirst for milk, Fonterra is expanding its presence in the country, opening five farms in central China and selling its products under a Fonterra brand, Anmum. "China is going very well," Fonterra Chief Executive Theo Spierings said on a conference call last month.
Even as Fonterra looks for ways to grow faster in China, Chinese rivals are eyeing the co-op's home turf. Since Chinese consumers trust Kiwi milk more than the local stuff, it makes sense for Chinese companies to buy a piece of New Zealand and gain some cachet from the country's clean-and-green image. Last week, two Chinese milk producers announced plans to invest in New Zealand: Yashili International Holdings, which operates milk processing plants in four Chinese provinces, said it had won New Zealand government approval for a NZ$230 million plan to build a milk processing plant near Auckland; the following day, rival Inner Mongolia Yili Industrial Group said it, too, had received the government's blessing to buy a New Zealand dairy company and build a processing plant on the South Island.
Before it's here, it's on the Bloomberg Terminal.
LEARN MORE