Topless Women Protest Putin as Merkel Criticizes Russian Rights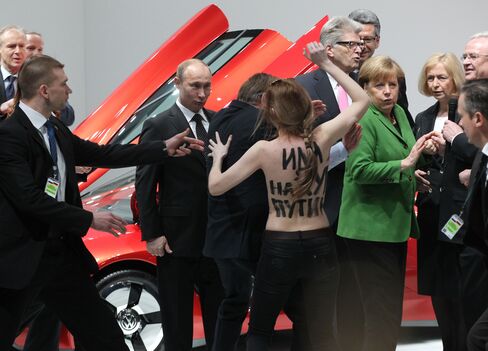 Chancellor Angela Merkel criticized Russia's treatment of civil society groups at a press conference in Germany with President Vladimir Putin after he was subjected to a protest by topless women shouting "dictator."
Putin was in Hanover to open the annual trade fair, where Russia is this year's partner country, after Russian authorities searched the local offices of non-governmental organizations such as Human Rights Watch and Amnesty International. The St. Petersburg office of the Konrad-Adenauer-Foundation, a body affiliated to Merkel's Christian Democratic Union party, was searched March 26 by Russia's state prosecutor.
Raids on NGOs are "a cause for concern," Merkel said at a joint press conference with Putin in Hanover today. NGOs "must be able to do their work well and in freedom and without being hampered," she said. "I made this clear" in talks with Putin.
Putin, who is traveling on to Amsterdam, dismissed the criticism, saying that Russia isn't restricting the work of German NGOs and that he "liked" the topless protest. Russia had been warned in advance of the action, he said.
Russian lawmakers last year required groups that receive money from abroad to register themselves as "foreign agents" and submit to tighter controls. Putin said today that 28.3 billion rubles ($900 million) has been transferred into NGO accounts in Russia so far this year.
'Massive Financing'
"Our concern isn't with the activities of the NGOs but with their massive financing from abroad -- that's what we are talking about," he said. "The freedom of these organizations is in no way being restricted. They just need to get registered."
Putin said the money could have been better used if it were sent to help "problem-laden countries, including Cyprus." Then "there would have been no need to fleece the poor depositors," he said.
Earlier today during the leaders' tour of the fair, security officials wrestled three or four women to the ground about 10 meters (30 feet) away as they rushed toward Merkel and Putin, who were visiting the Volkswagen AG stand at the time. The women had slogans daubed on their naked chests including "dictator" and were shouting slogans in English and Russian.
The Russian state-run Novosti news service said the women were members of the protest group Femen, which originated in Ukraine.
In March last year, Femen activists were arrested after they rushed at a polling station where Putin voted in Russia's presidential elections, taking off their tops and shouting anti-Kremlin slogans about 15 minutes after Putin had left the precinct.
Brussels, Kiev
Topless protesters daubed with slogans criticizing the Russian leader have previously carried out anti-Putin protests in Brussels and Kiev. They have also conducted protests against Islam, the Russian Orthodox Church, human rights violations and sexual exploitation.
"Freedom of expression includes the right to demonstrate, but observance of the law is necessary," Merkel said, when asked about today's protests. "Differences of opinion must prevail in a democracy."
All the same, the authorities had not been notified of the demonstration and are looking into the incident, she said. Merkel said she doubted that form of protest was necessary as one "can demonstrate in other ways."