Why Amazon's Jeff Bezos Invested in 'Business Insider'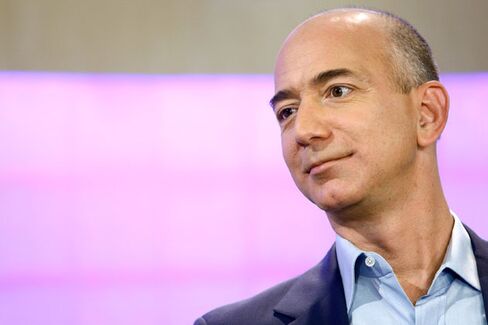 So finally we know who was captivated and informed by the curiously banal and now infamous post on Business Insider from January, "I Was Quite Surprised By Some Things On My American Airlines International 'Economy Class' Flight," by its editor-in-chief, Henry Blodget.
Amazon.com Chief Executive Officer Jeff Bezos, who hasn't flown economy class since 1998.
As my colleagues at Bloomberg reported today, Bezos lead a $5 million round in Business Insider. To Henry Blodget and his team at the six-year-old online news startup: congratulations.
To the rest of the technology and news world: condolences. I imagine this is a little bit like finding out your favorite author watches daytime soaps.
I joke, of course. Bezos's investment in the scrappy news site is perfectly aligned with his overall philosophy about changes in the media business. He believes the intermediary layers or "gatekeepers" of traditional media are being threatened by tectonic shifts in the economics of content creation and distribution, and Amazon is investing heavily to accelerate the transition and profit from it. It's allowing authors to publish their own books directly to the Kindle, as well as funding its own television shows through its Amazon Studios division. Even "well-meaning gatekeepers slow innovation," Bezos wrote in his shareholder letter last year.
Bezos clearly believes the same transitions are happening in the new business. He's personally a fan of e-mail newsletters such as Very Short List, a daily assortment of cultural tidbits from the Web, and Cool Tools, a compendium of technology tips and product reviews written by Kevin Kelly, a founding editor of Wired. Both e-mails are short, well written, and are delivered right to readers via e-mail with minimal fuss and no expense. Internally, Amazon has even experimented with its own simple, editorially crafted newsletters that would be e-mailed directly to customers.
In a memo to his staff, Blodget said the investment grew out of a dinner he had with Amazon's CEO about a year ago. Their relationship stretches back 15 years, when Blodget, then an equity analyst at Merrill Lynch, was one of the loudest advocates on Wall Street for the first generation of technology companies. The pair shared a combustible fervor in the power of the Internet to change the business landscape, and each paid a price for their exuberance. Blodget was banned from Wall Street for making public calls on stocks that were at odds with his own private assessments he was giving colleagues, as Ken Auletta chronicles in an in-depth story in this week's New Yorker. Amazon had to dig itself out of a hole of nearly $2 billion in debt and revive a moribund stock price during the dot-com crash.
Now they're joining forces. "Jeff's leadership, vision, and philosophy at Amazon have been an inspiration to a whole generation of startups and entrepreneurs, including me," Blodget told Bloomberg. "It is a privilege and pleasure to have him invest in the company."
Before it's here, it's on the Bloomberg Terminal.
LEARN MORE