N. Korea Warns Foreign Embassies to Evacuate Amid Tension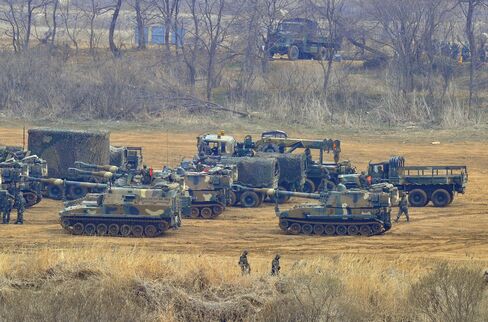 North Korea asked Russia and other countries to consider evacuating their diplomats from the capital as tensions mount with its southern neighbor, warning that embassies can't be protected in the event of a conflict.
A North Korean Foreign Ministry official met Russian Ambassador Alexander Timonin today to deliver the message, said Denis Samsonov, a spokesman for the embassy in Pyongyang. The British Embassy was told by the Asian nation's government that it won't be able to guarantee the safety of foreign missions starting April 10 if a conflict flares up, the Foreign Office in London said. Britain later said it had no plans to pull out staff for now.
"We are consulting international partners about these developments," the Foreign Office said in an e-mailed statement. "No decisions have been taken, and we have no immediate plans to withdraw our embassy."
The warning to diplomats in Pyongyang is part of "an escalating series of rhetorical statements, and the question is to what end," U.S. State Department spokeswoman Victoria Nuland told reporters in Washington today. "We all know that this is an unpredictable regime and an unpredictable situation."
While taking "appropriate measures" to defend the U.S. and its allies and deter North Korea, the U.S. still wants "to leave the door open if the DPRK is willing to make a different choice," she said.
Embassy Message
Nuland noted a release yesterday from the U.S. embassy in Seoul which said that "despite current political tensions with North Korea there is no specific information to suggest there are imminent threats" to Americans or U.S. facilities in South Korea.
Sweden, which represents American interests in North Korea, where the U.S. doesn't have an embassy, hasn't given any indication that it will change its operations there, Nuland said.
Russia is "alarmed" by the tensions on the Korean peninsula and is in "close contact" with the U.S., China, Japan and South Korea over the proposal to empty diplomatic missions, Russian Foreign Minister Sergei Lavrov said, according to a statement on the ministry's website. Russia also sought clarification from the government in Pyongyang, he said.
'Approaching Soon'
The crisis is escalating after the communist nation threatened to wage nuclear war on the U.S. and South Korea. Kim Jong Un's regime warned this week that "the moment of explosion is approaching soon" and said it's poised to conduct a "smaller, lighter and diversified nuclear strike." North Korea also has moved a missile to its eastern coast rocket-launch site, possibly for test-firing, according to South Korea's defense minister.
"In recent weeks, the North Korean government has raised tensions on the Korean peninsula and the wider region through a series of public statements and other provocations," the British Foreign Office said. "We condemn this behavior and urge the North Korean government to work constructively with the international community, including over the presence of foreign embassies."
In Germany, the North Korean ambassador was summoned to the Foreign Ministry in Berlin today and told that Chancellor Angela Merkel's government is extremely concerned by the escalation on the Korean peninsula, which Germany finds unacceptable, the ministry said in a statement. The matter will be on the agenda at a meeting of foreign ministers from the Group of Eight nations scheduled in London next week with the goal of reaching a "resolute" common reaction to North Korea's "irresponsible threats," the ministry said.
Russian Embassy
The North Korean initiative was prompted by "the escalating situation" in the region, the Russian diplomat in Pyongyang said, adding that there were no tensions currently in the capital city.
The proposal is now under consideration, Samsonov said by phone, adding that a decision won't be made today. More than 100 people work in the Russian embassy, he said.
Russia, which shares a 17-kilometer (11-mile) border with North Korea, agreed last September to write off 90 percent of the reclusive Asian nation's $11 billion debt that dated back to the Soviet period and settle the remaining 10 percent via joint projects in health care, education and energy. Late North Korean leader Kim Jong Il visited Russia in August 2011 for talks with then-President Dmitry Medvedev.