Harvard's Search of Dean's E-Mail Broader Than Reported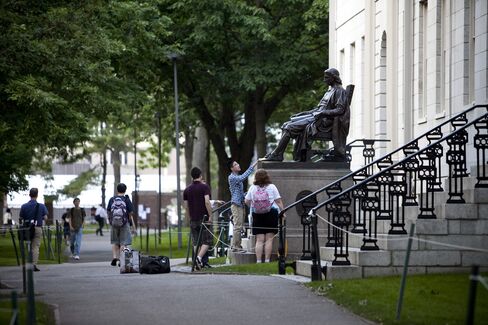 Harvard University will examine electronic communication policies after a search of resident deans' e-mails for leaks to the media was wider than the school originally said.
Evelynn Hammonds, dean of Harvard College, said officials performed two reviews of one resident dean's e-mail that the school hadn't acknowledged last month, according to a transcript of remarks she made yesterday to a Faculty of Arts and Sciences meeting.
Harvard searched the e-mails because of concerns that a confidential communication about a school cheating scandal implicating dozens of students was forwarded to the student newspaper. University President Drew Faust said that she will form a task force to develop recommendations for policies and guidelines on e-mail privacy.
"It constitutes a significant institutional failure to provide adequate guidance and direction in a digital environment that is a powerful and rapidly changing force in all our lives," Faust told the faculty yesterday. "We need clear, visible, and well-articulated polices and processes."
The Boston Globe was first to report on the broader search.
Harvard Law School professor David Barron will head the task force. Faust also said she would ask Michael Keating, a lawyer at Boston-based Foley Hoag LLP, to verify the information about the e-mail searches.
Confidential E-Mail
On Sept. 1, a few days after Harvard disclosed the cheating scandal probe, the Harvard Crimson student newspaper quoted from a confidential e-mail from John Ellison, secretary of the Administrative Board that adjudicates student conduct issues. The paper said it had obtained a copy of the e-mail that was sent to one of the resident deans, who administer the houses where students live, and sit on the Administrative Board.
Harvard said on March 11 that it had only searched the resident dean's administrative account, which is intended for official use, and only subject lines of forwarded e-mails in that account. No e-mails were read, Harvard said. Yesterday, the Cambridge, Massachusetts-based university said that the search had gone further.
Officials searched the same resident dean's administrative account to see whether e-mail had been forwarded to the Crimson reporters who wrote the story that cited the confidential communication, Hammonds said. They also searched the same resident dean's individual account for subject lines and names of the reporters, she told the faculty meeting yesterday.
'Regret Deeply'
"I regret deeply the poor notification of these searches," Hammonds said. "I apologize to the administration, the faculty, the resident deans, and most importantly, our students."
The searches of the administrative accounts' subject lines were approved by Faculty of Arts and Sciences Dean Michael Smith and university counsel, Hammonds said. While the lawyer was informed of the two additional searches, Smith was not, she said. Faust also wasn't informed of the additional searches, Harvard spokesman Jeff Neal said.
All the e-mail searches were undertaken because of concerns about Administrative Board confidentiality and the possibility that the identities of students under investigation might become public, she said.
"Had we not sought to discover the source of the exposure and further information was released, I would now be standing here trying to explain why we did not take action," Hammonds said.
Smith also apologized and said that e-mails are searched "very, very rarely." He said he would "never condone" monitoring of e-mails, and that anytime Harvard searches an e-mail account, the person under investigation should be notified.
"I am left with the undeniable conclusion that in this case, notification was not done as it should have been," he said.