NASA Marketing Video to Run Before New 'Star Trek' Film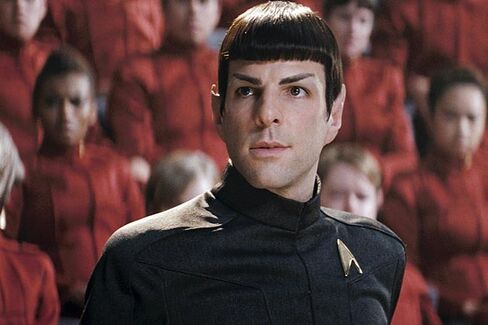 When Star Trek into Darkness hits screens this May, Trekkies won't have to wait for the movie to begin to see images of far-off galaxies, or to be inundated with melodramatic tales of man's conquering of the unknown. "We are the explorers," booms the voice of Optimus Prime in a NASA marketing video that will air before the movie in select theaters.
A remix of a longer NASA marketing video, the 30-second spot was sponsored by the Aerospace Industries Association and was crowdfunded on indiegogo.
This is NASA's original video:
http://www.youtube.com/embed/e7DEw70LVWs
The original 2:36-minute video, produced at NASA's Johnson Space Center in 2012, is technically in the public domain. The AIA then stepped in to cut the 2:36-minute ad down and to coordinate the crowdfunding. With 30 days remaining, the project has raised around $45,000—more than the initial goal, but less than the $94,000 that the campaign says it needs to put the ad in at least one theater in every U.S. state. Perks for contributions include a black-and-white spacesuit photo, "authentic" space shuttle mission patches and lapel pins, and—for donors of $1,000 or more—a classic space program model.
"By donating to this campaign," the page says, "you're making a very powerful statement about the widespread enthusiasm that exists for space programs." Star Trek: The Next Generation actor Will Wheaton seemed to agree. "Let's get a PSA for NASA to run before Star Trek Into Darkness! Who's with me?!" he tweeted.
"Crowdfunding campaigns are becoming increasingly popular in the space community," says AIA Director of Space Systems Dan Hendrickson, pointing to a recent fundraising effort to recover Lunar Orbiter mission data. "The original idea behind this campaign wasn't a response to budget cuts," he insists. "This is a campaign to highlight to our students and young people that human spaceflight is alive and well in the United States in the post-Space Shuttle era." Citing "immediate and overwhelming financial support," Hendrickson considers the experiment a success.
Still, the new public-interest advertising model comes with challenges. Some financial backers are interested in more than patches and pins; they seek a say in the project they've made possible. "Focus on more than just spinoffs," suggests one commenter. "Focus on current projects," suggests another. A Reddit thread is agitating for the airing of a different video with a Carl Sagan voiceover.
"Thanks so much for all of this feedback," wrote Hendrickson in the comments section. "I'm reading all of it and taking [it] into consideration. … We're exploring lots of options."
Before it's here, it's on the Bloomberg Terminal.
LEARN MORE