Florida Atlantic University Backs Off on Naming Its Stadium After a Prison Company
Turns out people don't like the idea.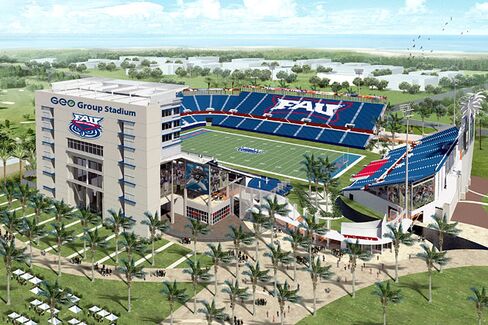 The publicity generated by Florida Atlantic University's plan to name its stadium after a for-profit prison company, GEO Group, was not what either organization bargained for, and the deal is now off. As we noted in February, the school received a $6 million gift from GEO. And GEO got a little bit of brand burnishing. At least, that was the plan. Mostly they both got a lot of negative reactions, including a campus protest on Monday. After the demonstration, FAU announced that GEO has withdrawn its gift. "What was originally intended as a gesture of GEO's goodwill to financially assist the university's athletic scholarship program has surprisingly evolved into an on-going controversy and considerable distraction to both of our organizations," GEO Group Chairman and Chief Executive Officer George Zoley wrote in a letter.
Zoley should not be surprised by the response. As Jim Andrews, senior vice president of content strategy at IEG, told us in February, "If they didn't foresee that there could be a backlash and some negative publicity, that was being pretty naïve." To quote Stephen Colbert in this Colbert Report segment on the deal: "Criticism is just one of the downsides of paying millions of dollars to have people pay attention to your company. People start paying attention to your company."
Before it's here, it's on the Bloomberg Terminal.
LEARN MORE