IPO Boom Leaves Smaller Companies Behind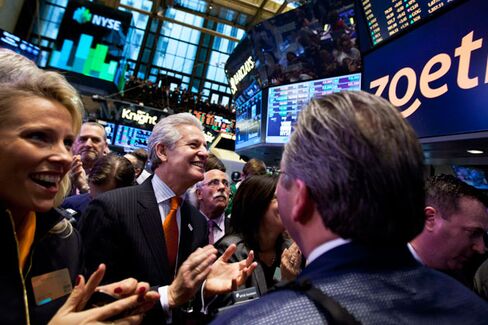 Initial public offerings are booming, according to data compiled by Bloomberg: U.S. companies raised $8.91 billion in the first quarter of the year, up 44 percent from a year ago.
Initial public offerings are sputtering, according to the Wall Street Journal: Among companies with less than $1 billion in sales, IPOs were down 21 percent last year.
The difference between the two related measures is more evidence that as the U.S. economy heats up, not everyone is benefiting equally. The biggest IPO of the quarter, and the biggest since Facebook last May, was Zoetis, which makes medicine and health products for animals. Zoetis is a division of Pfizer and is now valued at $16.6 billion, with shares gaining 27 percent since they started trading on Feb. 1. Both the Dow Jones industrial average and the Standard & Poor's 500-stock index have hit all-time highs this year as investors plow money into equities, and IPOs are expected to pick up in the rest of 2013.
Meanwhile, the Journal, citing data from University of Florida professor Jay Ritter, reports that only 63 companies with sales of less than $1 billion are on track to go public since President Obama signed the Jumpstart Our Business Startups Act on April 5, 2012. That would be down from 80 in the previous 12 months. Parts of the JOBS Act were intended to encourage smaller companies to test the public markets, including provisions that let them keep some sensitive data secret. Other aspects of the law might lead young companies to stay private—they can now have 2,000 outside investors, up from 500, before onerous public reporting requirements kick in.
Facebook's widely anticipated IPO in May 2012 was a bomb, beset by technical glitches, accusations of favoritism for wealthier investors, and weak performance. Shares are still down by a third from their offering price.
"That really took a lot of wind out of the sails for the IPO market overall," Carter Mack, the president of JMP Group, told Bloomberg TV on Dec. 26. "We really haven't seen the full test of the JOBS Act, and I expect we'll see a lot more activity in 2013."
In a Jan. 22 survey of investment bankers, just 29 percent said they believe the JOBS Act has been effective, down from 55 percent last summer. The survey was conducted by BDO USA, a consulting firm. Slightly more than a quarter of respondents said it was too early to say if the legislation was making a positive impact.
Much of the process of implementing the legislation remains unfinished. "The SEC needs to get the rules right, but it also needs to get them done," Mary Jo White, Obama's nominee to head the Securities and Exchange Commission, said during March 12 testimony before the Senate. "To complete these legislative mandates expeditiously must be an immediate imperative for the SEC."
Before it's here, it's on the Bloomberg Terminal.
LEARN MORE