Cheval Blanc 1947 Joins Latour on Sale as Prices Recover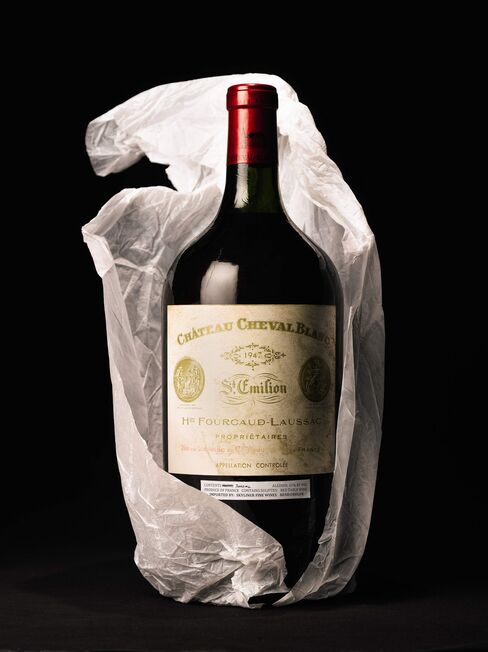 A double magnum of Chateau Cheval Blanc 1947 goes on sale at a Sotheby's New York wine auction next month, while Acker Merrall & Condit has bottles of Chateau Latour 2003 and a magnum of Cros Parantoux 1988 Henri Jayer.
The Cheval Blanc double magnum, reviewed by the chateau and which Sotheby's estimates may fetch $60,000-$90,000, comes from the vintage rated one of the top two of the past 65 years for the Saint-Emilion producer by U.S. wine critic Robert Parker. A 12-bottle case of the same wine sold for HK$1.23 million ($158,000) at a Zachys Hong Kong auction in January.
The London-based Liv-ex Fine Wine 50 Index has rallied 10 percent since November. Bordeaux vintages, which were sold off during the 16-month market slump starting in July 2011, have started to recover again this year. A rally in first-growth wines such as Latour and signs of investor demand for some more recent years such as 2004 have helped boost the index.
"Bordeaux interest has reawakened," Acker Chief Executive Office John Kapon said in a telephone interview from New York. "I think there's good opportunity in the younger wine segments."
A case of Chateau Mouton-Rothschild 2004 sold for 3,150 pounds ($4,760) on Liv-ex March 18, its highest level for 17 months. The Mouton, a first-growth Pauillac, was almost double the 1,575 pounds at which it traded soon after release in the futures market in June 2008.
The Acker sale includes a case of Latour 2003 with a top estimate of $11,000 and 12 bottles of the same grower's 2000 vintage, estimated at as much as $7,000. Top Burgundies in the sale include a magnum of Vosne-Romanee 1988 Cros Parantoux from Henri Jayer, estimated at as much as $12,000, and a magnum of his Echezeaux from the same year with a similar price tag.
Here is a list of global wine auctions scheduled so far this year. Dates may be subject to revision, and links are to auction house sale catalogs and websites.
APRIL:

April 3:         Acker Merrall & Condit, New York
April 3:         Sotheby's, Hong Kong
April 3:         Sotheby's, Hong Kong
April 4:         Bonhams, London
April 16:        Christie's, New York online
April 17:        Sotheby's, London
April 23:        Christie's, Amsterdam
April 25/26:     Zachys, New York
April 26/27:     Sotheby's, New York
April 27:        Acker Merrall & Condit, New York

MAY:

May 2:           Christie's, London
May 14:          Christie's, Geneva
May 15:          Sotheby's, London
May 18:          Bonhams, San Francisco
May 18:          Hart Davis Hart, Chicago
May 23:          Bonhams, Hong Kong
May 23:          Bonhams, London
May 24/25:       Christie's, Hong Kong
May 24/25:       Acker, Merrall & Condit, Hong Kong
May 24/25:       Zachys, Hong Kong
May 29:          Acker Merrall & Condit, New York
May 30/31:       Christie's, New York

JUNE:

June 6:          Christie's, London
June 8:          Sotheby's, New York
June 12:         Sotheby's, London
June 28:         Christie's, Paris
June 29:         Acker Merrall & Condit, New York
June 29:         Hart Davis Hart, Chicago

JULY:

July 11:         Bonhams, London
July 17:         Sotheby's, London
July 27:         Bonhams, San Francisco

SEPTEMBER:

Sept. 7:         Acker Merrall & Condit, New York
Sept. 11:        Sotheby's, London
Sept. 12:        Bonhams, London
Sept. 14:        Bonhams, San Francisco
Sept. 21:        Hart Davis Hart, Chicago
Sept. 27/28:     Acker Merrall & Condit, Hong Kong

OCTOBER:

Oct. 24:         Bonhams, London
Oct. 26:         Hart Davis Hart, Chicago

NOVEMBER:

Nov. 20/22:      Bonhams, Hong Kong

DECEMBER:

Dec. 7:          Hart Davis Hart, Chicago
Dec. 12:         Bonhams, London