For North Dakota's Women, the Closest Abortion Clinic Is a Long Drive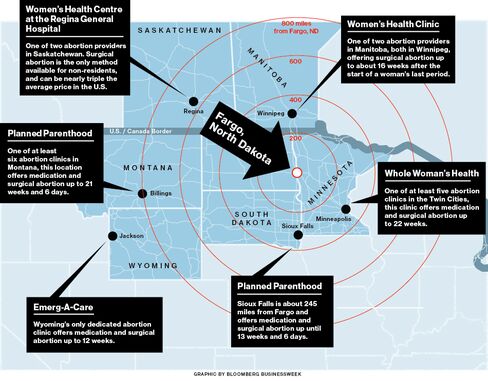 Getting an abortion in North Dakota hasn't been easy for a long time. Since 2001, Red River Women's Clinic in Fargo has been the state's sole clinic to offer the procedure. Now it may become all but impossible if two laws that Republican Governor Jack Dalrymple signed this week take effect Aug. 1 as scheduled. A requirement that abortion doctors have admitting privileges at local hospitals and a ban on terminations once a heartbeat is detectable, as early as six weeks, may cause Red River to shut its doors, says its director, Tammi Kromenaker. Abortion-rights groups have pledged to challenge the laws. If they aren't successful, North Dakota could become the first state without a dedicated abortion clinic. Some 94 percent of abortions take place in clinics. So where would North Dakota's women go?
Before it's here, it's on the Bloomberg Terminal.
LEARN MORE