Bloomberg View: Straightening Out Cyprus
What the EU must do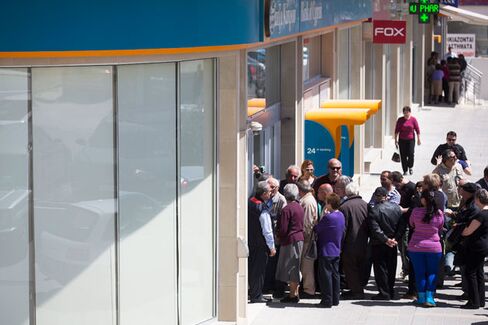 The March 25 Cyprus bailout deal is a big improvement over the first botched attempt. It doesn't repeat the error of breaching the guarantee on bank deposits up to €100,000 ($127,830). Instead, it restructures the two biggest banks and forces their creditors, including large depositors, to take huge losses.
Yet the euro area's leaders must do a lot more to convince Europeans and the markets that they've drawn the right lessons from this debacle. They need to say why Cyprus is an exception and commit to integrating the euro area further so it's less vulnerable to such crises. They're failing on both points.
The head of the euro area group of finance ministers, Jeroen Dijsselbloem, appeared to draw all the wrong conclusions in an interview after the new deal was struck. He suggested that the Cyprus pact offered a template for resolving the debt crisis. Under this model, the burden of repairing banks would shift from taxpayers to private creditors. Specifically, Dijsselbloem said he hoped the approach meant that the €500 billion European Stability Mechanism would never be used to directly recapitalize banks.
Leaders from the wealthier northern-tier countries, including Germany, Finland, and the Netherlands (Dijsselbloem is Dutch), advocate such a tack because it would avoid further transfers from north to south. This would be fine if it were possible. It isn't—not if the euro area is to remain intact. Upon hearing Dijsselbloem's remarks, any bondholder or depositor in a weak Spanish or Italian bank would be inclined to run, leading banks in those countries to collapse. Thankfully, he recanted in a short statement, which said Cyprus is not a model.
National leaders and the International Monetary Fund should state clearly why Cyprus is different. Unlike Spain, Portugal, or Ireland, Cypriot banks are in trouble because they'd attracted hot money from abroad, in particular Russia. Cypriot banks have assets eight times bigger than the nation's gross domestic product. It's wrong to ask taxpayers, whether in Cyprus or Germany, to guarantee such investments. The banks' owners should take the losses, and the banks should be reduced to a more sustainable size.
Before it's here, it's on the Bloomberg Terminal.
LEARN MORE