Gay-Marriage Rivals Protest at Supreme Court as Case Opens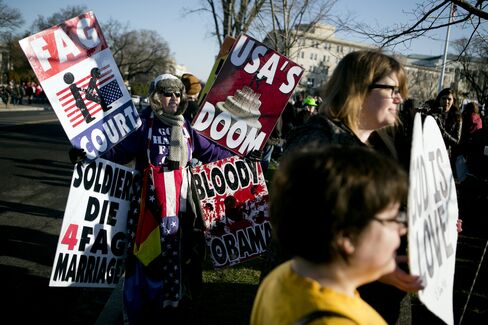 Thousands of Americans representing diverse views on same-sex marriage demonstrated in front of the U.S. Supreme Court as the justices heard arguments in a case that may determine whether gay couples can marry.
The Reverend Susan Henderson of the Little River United Church of Christ in Annandale, Virginia, held a rainbow sign on the sidewalk in front of the court. Henderson said she became a supporter of same-sex marriage after her daughter came out of the closet at 16.
"We just have to keep our minds open and let God keep speaking to us until we can see the wideness of God's mercy and grace," she said.
The nation's high court considered same-sex marriage for the first time today, taking up arguments on Proposition 8, a 2008 California ballot measure passed by voters that bars such unions. During the hour-long argument, Justice Anthony Kennedy, who is potentially the swing vote among the nine judges, suggested that children of same-sex couples suffer "immediate legal injury" from California's ban.
"They want their parents to have full recognition and status," Kennedy said. "The voice of those children" is important, he said.
Rejection Prospect
Kennedy also raised the prospect that the court will decline to say whether the Constitution gives gays the right to marry. He twice asked whether the most prudent course for the court would be not to rule.
"I just wonder if the case was properly granted," he said. He aimed questions at both sides during the argument.
A decision to turn back the case would restore gay marriage in California. Most demonstrators left the court area after the arguments ended.
Tomorrow, the court will weigh the legality of the 1996 Defense of Marriage Act, which prevents the federal government from recognizing gay unions on issues including benefits.
Deborah Rudolf, 62, of Plymouth, Massachusetts, where same-sex marriages are legal, plans to wait in line all night to secure a spot inside the court for tomorrow's arguments.
"It's particularly important to me as a married lesbian," she said of tomorrow's case.
'Fit Together'
Pete Braudis, 67, was among those rallying against same-sex marriage outside the court today.
"The purpose of marriage is written in our bodies," he said. "It's for procreation and it's for the unity of the couple. And our bodies show that. We're made to fit together."
Braudis, a retired chemical engineer who traveled from Groton, Massachusetts for the event, said he was "glad that homosexual people love each other, but it's not marriage."
Supporters of both sides overflowed the sidewalks and filled the street in front of the court. The U.S. Capitol police didn't offer an estimate about the size of the crowd.
Danielle Gerson, 24, a sales account executive for a technology company, traveled from New York to support marriage equality for lesbian, gay, bisexual and transgender individuals.
Gerson watched from the sidewalk as a procession of gay-marriage opponents filled the street.
"These are the people that spread the hate that cause young LGBT kids to commit suicide," she said. "I feel ashamed that these people feel so proud to spread such hate. I almost pity them."
A man wearing a pink fishnet leotard, rainbow skirt and red plastic devil horns was cheered by gay-marriage supporters as he danced in front of demonstrators who carried signs that said "Same Sex Marriage Dooms Nation" and "Death Penalty 4 Fags."
"This is the standard of God; there's nothing extreme about it," said Margie Phelps, 56, a member of the Westboro Baptist Church in Topeka, Kansas, who held the sign calling for gay people to be put to death. "It needs to be juxtaposed to this nonsense you're entertaining." Westboro members have frequently demonstrated against gay rights.