AMD's Former CEO Has Advice for Intel's Next CEO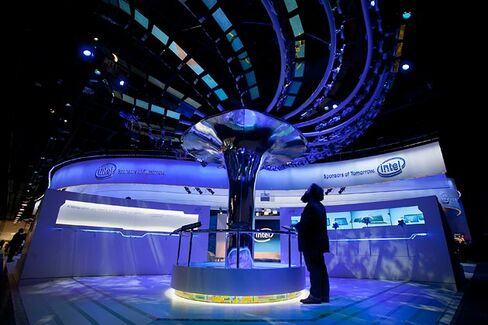 I spent an important part of my career battling Intel as the head of smaller rival Advanced Micro Devices, both in the marketplace and in the courtroom, where we challenged Intel's monopolistic practices. Yet as I watch Intel today, besieged on all sides—by Wall Street, by competitors better positioned to exploit the fast-growing mobile market—I can't help but think that the next chief executive will face challenges less like what Andy Grove, Craig Barrett, or Paul Otellini did on taking the helm of the world's largest semiconductor company and more like what I faced at AMD.
Intel isn't the company it was a decade ago, when it could use its dominance to sway nearly every aspect of the computing market in its favor. Although Intel remains the top player in PCs, mobile technology for smartphones and tablets is the faster-growing arena, and more nimble rivals have taken control. Some 95 percent of cell phones today, including the iPhone and most Android phones, employ ARM-licensed chips. In mobile, Intel is the underdog.
What would I say to Intel's next CEO? Have the courage to take bold action. Get out of your own way. And surprise the market. Here's how:
1. Tell the world you're in the computing business. The way I see it, tablets are just an extension of PCs, albeit with microprocessors that have different computing and power requirements. Intel may currently be more adept at building big, powerful (and energy-hungry) chips, but the company has more resources than most to invest in R&D and a proven reputation for continuous innovation. There is no reason to let the media, Wall Street, or anyone else define Intel as purely a PC technology company.
Intel may be the underdog in mobile today, but if the company makes a serious commitment to developing technology for that market, it could quickly outstrip competitors. Intel should re-position itself as a leader in computing of all kinds.
2. Divvy up the company. Intel dominates the PC market, and the PC market dominates Intel. The company needs to get out of its own way or risk going the way of Boeing, a masterful maker of jumbo jets that entirely missed the boom in regional travel. In that case, Brazil's Embraer saw the need for smaller commuter planes and, having achieved dominance in that market, is now challenging Boeing on its turf. Intel can't let its powerful PC business squash innovation that could help it establish leadership in mobile technology; soon its competitors in mobile may get strong enough to eat away at its PC market share, especially with the advent of new three-dimensional interconnect technology for microprocessors—where no one yet has the competitive edge.
My advice to Intel: Split the businesses.
Move toward becoming a portfolio company, with autonomous business units, each of which has a clear vision and value proposition. One focused on big data and the high-end market for servers, another focused on the PC and similar markets, and a third dedicated entirely to mobility. With intelligent restructuring, they all can benefit enormously from the parent's superior manufacturing capability. Then revisit and, if necessary, repeat the process in three to five years.
3. Don't wait. Intel has waited long enough. The company had the capacity to establish leadership in the mobile market years ago, but inertia—and perhaps the defensive mentality that tends to overtake dominant companies—prevented Intel from innovating.
Take a lesson from Motorola, which missed many critical opportunities and didn't take action until it came under pressure from activist shareholder Carl Icahn. By then, the once-venerable brand had squandered the value it had spent decades earning. Intel is not immune to this fate.
Wall Street and the media may declare that the PC market is dead or that mobile is the future. The truth is that computing, in all its evolving forms, remains and will remain king. The products consumers want will change whenever the industry innovates and offers something new and better. Intel should make its mission continuous innovation in computing of all kinds.
All the commentary aside—including mine—the next chief at Intel would also do well to remember what my own father used to tell me: "There will always be spectators and participants. Do right by the participants." For Intel and any company, the participants are employees, customers, and shareholders—in that order. Give them the chance to participate in a great company that strives to keep the U.S. on the forefront of technological innovation. Wall Street—and short-term thinking—be damned.
Before it's here, it's on the Bloomberg Terminal.
LEARN MORE