China's Property Prices Too High for More People in PBOC Survey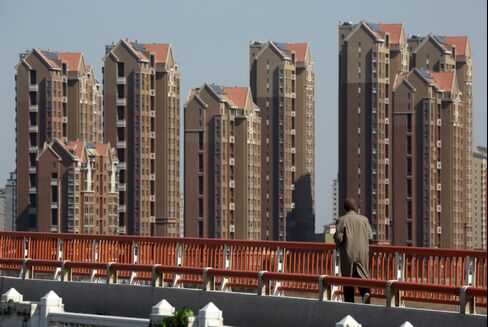 More Chinese residents find property prices too high and "hard to accept" even as the government rolls out extra measures to cool the housing market, a central bank survey showed.
More than two-thirds of those surveyed, or 68 percent, said prices are too high, the highest percentage since the final quarter of 2011, the People's Bank of China said in a quarterly release today. More than a third, or 34.4 percent, said home prices will rise in the coming three months.
In February, new-home prices posted the broadest advance since December 2011, posing a challenge for new Premier Li Keqiang as he seeks to prevent a property bubble without damping growth. Li's predecessor, Wen Jiabao, added to curbs in his last days in office, saying the central bank's local branches could raise down-payment requirements and interest rates for second mortgages in cities with excessive price gains.
"It looks impossible for home prices to fall because prices of everything else are climbing -- if the government could tame home prices to rise in line with CPI, that'd be considered a success," said Lu Ting, head of Greater China economics at Bank of America Corp. in Hong Kong, referring to the consumer price index.
New-home prices climbed in 62 of 70 cities in February.
Today's survey of 20,000 urban households in 50 cities also showed more people concerned about inflation, with 62.1 percent saying prices are "too high to accept," a rise of 3.6 percentage points from the previous quarter.
A separate PBOC survey of 3,100 bank managers found 78.2 percent see monetary policy as "appropriate," a rise of 3.2 percentage points from the previous quarter.
Zhou Xiaochuan, reappointed central bank governor last week, said the nation should be on "high alert" over inflation after February's figure reached a 10-month-high of 3.2 percent.
— With assistance by Xin Zhou, and Bonnie Cao
Before it's here, it's on the Bloomberg Terminal.
LEARN MORE