Canada Wonders Why Crude Oil Is Coming From Texas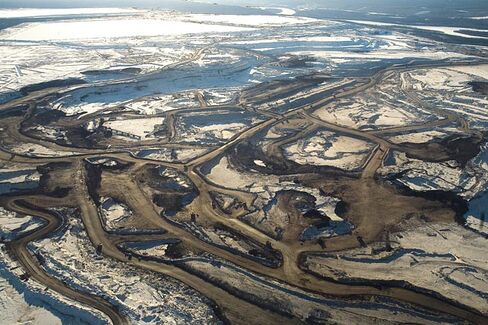 Western Canada is producing more crude oil than it knows what to do with. So guess where Eastern Canada is going to get crude oil from this summer? By ship from Texas.
Thomas Mulcair, the leader of Canada's official opposition, brought up the coals-to-Newcastle story in a visit to Bloomberg on Thursday. He blamed the government of Conservative Prime Minister Stephen Harper for botching efforts to bring oil across Canada to where it's needed.
Canadians are resisting pipeline projects because they don't trust the government and the pipeline companies to follow the environmental review process to the letter, Mulcair said. Enbridge wants to reverse the flow of a pipeline called Line 9 so oil can flow from Ontario through Quebec, but Mulcair said: "There's no credible process. That's the Conservatives' fault."
Mulcair, a member of Parliament from Quebec, leads Canada's New Democratic Party, which is the official opposition to Harper's government, so it's not a huge surprise that he would find fault with the prime minister.
Bloomberg reported last month that Valero Energy was granted permission by U.S. regulators to send a limited amount of crude to its Quebec refinery, an exemption from a three-decade-old ban on crude exports.
At a Bank of America Merrill Lynch refining conference on March 7, Valero Chief Executive Officer William Klesse told analysts that oil is "flooding the Gulf Coast." Said Klesse: "So then what are we going to do? We're going to take some to Quebec. We already got our license to that. So we can take it from Corpus [Corpus Christi, Tex.] to Quebec. We'll be able to do some of that this summer. Our license is for 90,000 barrels a day for the year."
Valero spokesman Bill Day added more information on Thursday. Valero is taking in more light, sweet crude from the Eagle Ford field in Texas than it can process at its Gulf Coast refineries. (Those refineries specialize in the more difficult job of refining heavy, sour crudes.) Valero does have capacity for light, sweet crude at its Levis, Quebec, refinery, which is on the St. Lawrence Seaway, near Quebec City. So it applied for—and got—its first permit to export oil from the U.S.
The official U.S. ban on crude exports may not last long, now that oil production is surging, by the way. Bloomberg reported earlier this month that "ConocoPhillips, the largest independent U.S. oil and natural gas producer, said the government should consider future exports of crude as domestic output rises."
Before it's here, it's on the Bloomberg Terminal.
LEARN MORE