Dell Bets Its Future Lies in Business Computing
The PC giant bets its future lies where it's unproven and late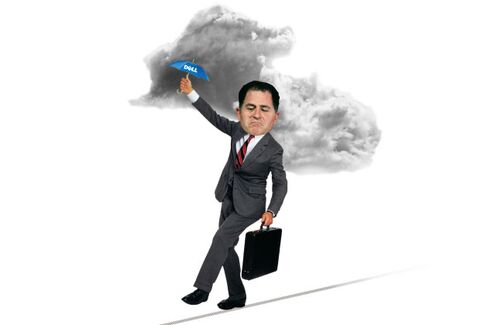 Michael Dell has described his proposed $24.4 billion leveraged buyout of Dell as the best way his company can buy time to move beyond bare-bones PCs and into the $3 trillion market for services and products such as servers, network switches, storage gear, and software. "Dell is really evolving toward the ability to provide end-to-end solutions for our customers," he told NPR on March 11. Trouble is, IBM has already made that transition, and other competitors are further along, including Hewlett-Packard, Oracle, EMC, and Cisco Systems.
In the iPad and smartphone era, Dell's core business is fading. Desktop and notebook PC sales fell 8.2 percent in the fiscal year ended Jan. 31, including a 20 percent drop in the fourth quarter from a year earlier. Dell's model is so broken the company plans to downplay build-to-order PCs, the signature innovation that helped make Dell the top-performing stock of the '90s. PC group Vice President Sam Burd says his unit will soon encourage customers to choose from a handful of preconfigured models.
Although Dell is a strong No. 2 in basic servers behind HP, its share of that market shrank to 21.7 percent in the fourth quarter from 23.4 percent a year earlier, and it faces increased competition from former supply chain partners. Two years ago, Taiwan-based Quanta Computer stopped manufacturing Dell-designed servers and began selling its own to Facebook and other large Web services customers, say two people familiar with the Facebook deal who aren't authorized to discuss it. Dell will find it tough to avoid being undercut because Google, Amazon.com, and other big buyers can largely dictate server prices, says Matthew Eastwood, an analyst at market research firm IDC.
[video5 src="1lYnczYTq_Bn4z4nJUXskn1RVrkmrkKJ" width="406" height="228"/]
Attempts to gain on rivals outside of the server market have centered on acquisitions, including storage companies EqualLogic and Compellent, networking firm Force 10, and Quest Software, which sells management programs. Cisco and Oracle have a years-long head start on Dell's "Active System," the company's five-month-old effort to tie these elements together into a single metal rack that simplifies the job of managing corporate data centers. Such integrated products could make up one-third of IT hardware spending by 2015, says Marius Haas, Dell's president of enterprise solutions. "I have to go into that space to make sure I continue to grow," says Haas. IDC's Eastwood says server gross margins are typically less than 20 percent, compared with networking and storage margins of 30 percent to 60 percent.
Dell's sales of the software that makes these integrated offerings work grew by 9 percent in fiscal 2012 but accounted for less than 4 percent of the company's revenue last year. For companies willing to pay consultants to help set up cloud computing services, IBM remains the top choice. Southwire, the largest manufacturer of wire cabling, has purchased thousands of PCs from Dell over the years, but Chief Information Officer Sheryl Fikse says she hasn't thought about using it for more complex cloud projects. Her most likely cloud partner is IBM, which is currently handling Southwire's new operations software. "Dell has been a great partner on PCs, but that would be a tough sell for them," she says.
To win over businesses, Dell would need to retrain or replace its PC-focused sales force. The company will also have to spend heavily to make sure its widening portfolio of products remains competitive, says Tom Georgens, chief executive officer of NetApp, the second-largest storage maker. "The innovation treadmill in this industry is really picking up," Georgens says. "At the end of the day, there are no miracles in engineering. It all comes from investment."
Going private could limit Dell's ability to do big deals. The company has spent nearly $13 billion since 2009 to buy 18 data-center computing and software companies. As a private company, Dell will have to cover interest payments that will likely run about $1.2 billion per year, and its creditors may not back more M&A, says Jayson Noland, an analyst at Robert W. Baird. "It's hard to imagine them spending a lot more than they have been spending."
Before it's here, it's on the Bloomberg Terminal.
LEARN MORE