A Federal Gambling Probe Shakes Up Florida Politics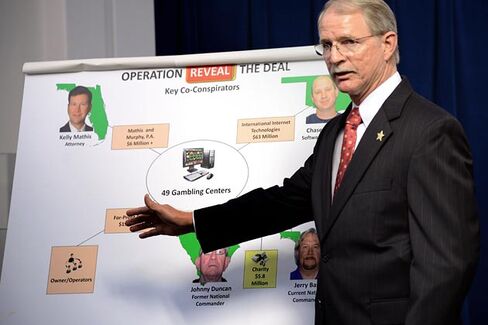 On Wednesday, Florida's Lieutenant Governor Jennifer Carroll resigned one day after being questioned by investigators as part of an ongoing multistate gambling probe, which authorities have nicknamed "Operation Reveal the Deal." At the center of the investigation is an organization—the legality of which Bloomberg Businessweek first questioned in 2011—called Allied Veterans of the World.
Prosecutors are alleging that Allied Veterans, which supposedly ran a charitable sweepstakes business on behalf of U.S. veterans, served as a front operation for a highly lucrative, illegal gambling outfit that was secretly racking up hundreds of millions of dollars of profits on behalf of its owners. (The organization did not respond to e-mails seeking comment. The phone number listed on the company's website is disconnected.)
On Tuesday, several top members of the organization were arrested. In total, 57 arrest warrants have been issued as part of the investigation, which stretches across several states, including Georgia, Alabama, and South Carolina. Authorities said charges will be formally filed next week and will include racketeering, conspiracy, money laundering, and possession of slot machines.
Lieutenant Governor Carroll has not been charged with a crime. According to the Associated Press, her public relations firm did work in recent years on behalf of Allied Veterans. In 2011, Carroll (a veteran who served in the Gulf War) appeared in a TV ad for the organization. According to the New York Times, while she was a member of the Florida House in 2010, Carroll introduced a bill that would have legalized the Internet sweepstakes cafes across the state. Later she withdrew the bill, claiming it was filed accidentally. On Wednesday, Florida Governor Rick Scott announced that any money his campaigns may have received in the past from Allied Veterans would be identified and donated to charity.
The investigation got started in Seminole County, Fla., according to a 130-page search warrant that authorities filed on Monday. In the spring of 2011, I spent a week in Seminole County, writing an investigative feature ("The Casino Next Door") looking into the so-called Internet sweepstakes cafes, which were growing increasingly popular in neighborhoods across the state and around the country. Supporters described the storefront businesses—which look like mini-casinos—as good, harmless fun. Detractors described the businesses as a predatory form of "convenience gambling" that hurt the poor and the elderly.
Where exactly all the money went from the pop-up casinos was a bit of a mystery. Allied Veterans of the World was legally registered as a 501(c)(3), a nonprofit organization dedicated to raising and donating money to veterans and first-responder groups around the country. The organization had a single 990 form on file with the state at the time. That year, 2009, Allied Veterans reported a mere $596,696 of annual revenue to the IRS. That seemed low to people familiar with the sweepstakes cafe industry, which is a cash-rich, high-margin business. By our estimates, Allied Veterans, which was operating dozens of Internet sweepstakes cafes around the state, should have been grossing in the ballpark of $100 million a year.
"It raises questions about their finances," Scott Plakon of the Florida House of Representatives told us at the time. "I hope that the Attorney General's office and law enforcement around the state continue to look at them."
While in Seminole County in 2011, I spent several nights playing slot-machine-like games at Allied Veterans #67—a large Internet sweepstakes cafe in Apopka, Fla., run by Allied Veterans of the World. The establishment remained open 24 hours a day, seven days a week. Every time I went in, the place was packed. Even on weekdays, in the early morning hours before sunrise, Allied Veterans #67 was buzzing with locals playing the slot-machine-like games for a few hours before they went to work. A few weeks after my visit, a young man brandishing a handgun was shot to death by a security guard inside the Allied Veterans #67 as he attempted to rob the facility.
For years, county officials in states around the U.S. have tried (often in vain) to shut down the Internet sweepstakes cafes, which operate in a legal grey zone and tend to employ high-powered attorneys. In 2011, Plakon introduced legislation in Florida's House of Representatives that aimed to shut down the industry in the Sunshine State. In response, members of the industry began flooding the state capital with lobbying money. As we reported at the time, state records showed that between January 2009 and the spring of 2011, Allied Veterans alone had given somewhere between $120,000 and $280,000 to the Tallahassee lobbying firm Capital City Consulting and $230,000 to $290,000 to a lobbying firm called Cruz & Co.
In the end it was the IRS, Secret Service, and local law enforcement's investigations into Allied Veterans' finances that resulted in charges. According to Monday's search warrant, Allied Veterans of the World allegedly pulled in $290 million in proceeds between 2007 and 2012—of which they disbursed $6 million (or 2 percent) in charitable donations.
"It is shameful that Allied Veterans of the World allegedly attempted to use the guise of a charitable organization to help veterans in order to lend credibility to this $300 million illegal gambling scheme," said Florida Attorney General Pam Bondi in a statement Wednesday. "The Office of Statewide Prosecution will be filing formal charges related to illegal gambling, racketeering, and money laundering, and they will prosecute the participants in the scheme to the fullest extent of the law."
Before it's here, it's on the Bloomberg Terminal.
LEARN MORE