Bob Knight Says He Stayed Too Long as Indiana, Texas Tech Coach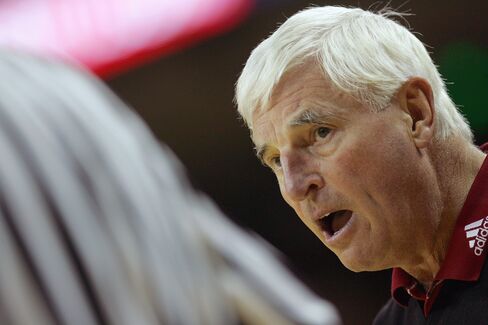 Bob Knight said his biggest regret in coaching was not knowing when to leave.
Knight, whose 902 victories trail only Mike Krzyzewski and Jim Boeheim at the highest level of men's college basketball, said in an interview on Bloomberg Television's "In the Loop" with Betty Liu that he regretted "in a couple of cases" that he "stayed somewhere too long."
Knight, who won three national titles in 29 seasons at Indiana University before being fired in 2000, was asked in a later interview on Bloomberg Radio's "Bloomberg Surveillance" with Mike McKee and Scarlet Fu if he should have left the school sooner than he did.
"I think so, and I think I really stayed too long at Texas Tech," Knight said. "Am I in cohesion with other people? And if you're not, you need to go someplace else. In coaching, it's not all that bad to give yourself another perspective, look at another thing."
Indiana, based in Bloomington, imposed a zero-tolerance policy for Knight after outbursts and confrontations, including a video that showed him grabbing a player by the neck at practice in 1997. He was fired after four months of the policy for what school President Myles Brand said was ''defiant and hostile'' behavior.
Knight was hired by Lubbock, Texas-based Texas Tech in March 2001 and led the Red Raiders to four National Collegiate Athletic Association tournament berths in six seasons.
"At that point, that's about as good as we were going to be, so rather than trying to be as good as you are, maybe let's try something somewhere else," Knight said today.
Abrupt Departure
Instead, Knight returned for a seventh campaign at Texas Tech before abruptly retiring in February 2008 with 10 games left in the season.
The 72-year-old Knight is now an ESPN commentator and recently wrote the book, "The Power of Negative Thinking: An Unconventional Approach to Achieving Positive Results."
With Indiana ranked No. 3 in the Associated Press Top 25 poll this season at 26-5, Knight said the Hoosiers have played well though "there might be a dozen teams like that."
He declined to comment on current Hoosier coach Tom Crean, saying that his focus as a broadcaster has been on the Southeastern Conference.
Knight began his head-coaching career as a 24-year-old at Army, where he said he was fortunate to work for Athletic Director Ray Murphy and Dean John Jannarone.
"I've worked for a couple of guys I didn't care for, which is always something that's important, to know who you like and who you don't like," Knight said.
Before it's here, it's on the Bloomberg Terminal.
LEARN MORE